Vaccination NOT NEEDED Protocol
To See all the Diseases you are Opening Yourself up to by "Vaccinating" Please Go Here
CDC Admits Thimerosal CAUSES AUTISM
"In 2016 over 100 Freedom of Records Act (FOIA) requests have finally forced the US Centers for Disease Control and Prevention (CDC) to admit a widely-used vaccine preservative is the equivalent of a neurological Armageddon. The deceitful agency finally had to reveal what they have known for years, that thimerosal, which was banned in 1999, but still used in over 60 vaccines, causes autism." Foolish to Trust the CDC on Vaccines
"Kids who received 100 micrograms of thimerosal were over ten times more likely to have autism than the kids who received no mercury-containing vaccines."

Doctor Mark Geier Note there are 25 - 50 mcg of thimerosal in 70% of all "flu shots"
You may think mercury has been removed from "vaccines" but it has NOT. For example your lovely "flu shot" usually contains 100 billion to 200 billion atoms (25 mcg - 50 mcg) of mercury. EVERY "vaccination" contains mercury.

Vaccine Resistance Movement Face book Page
The Vaccine Culture War in
America
: Are You Ready?
SIDS is CAUSED by "Vaccination"
90% of deaths occurred within five days of vaccination Note if "vaccination" was not causing these deaths the SIDS distribution would be CONSTANT across time and not clustered around the "vaccination". IMO many if not MOST "vaccinations" if honestly investigated will show a similar asymmetric DEATH cluster around "vaccination". This data was found HIDDEN in drug testing files.
"A study undertaken in 1979 at the University of California, Los Angeles, under the sponsorship of the Food and Drug Administration, and which has been confirmed by other studies, indicates that in the U.S.A. approximately 1,000 infants die annually as a direct result of DPT vaccinations, and these are classified as SIDS (Sudden Infant Death Syndrome) deaths. These represent about 10 to 15% of the total number of SIDS deaths occurring annually in the U.S.A. (between 8,000 and 10,000 depending on which statistics are used)." Leon Chaitow, Vaccination and Immunization, CW Daniel Company Limited, Saffron Walden, Essex, England, 1987.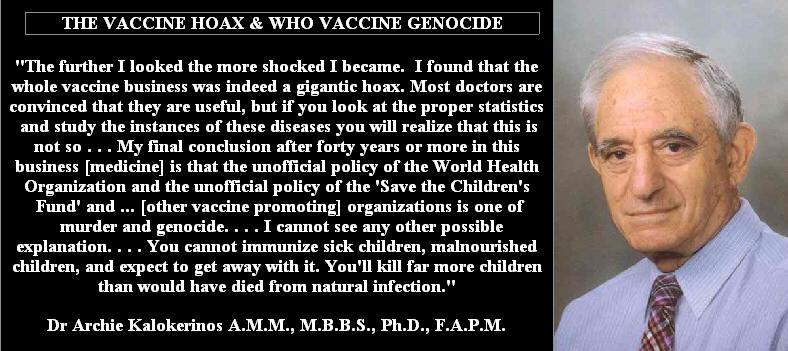 Immunity infectious disease and "vaccination" by Doctor Ray Obomsawin PhD Note this is a SEMINAL video that explains with graphics in terms very easy to apprehend, just what a Deadly FRAUD "vaccination" is. Watch this first to get the big picture.
Doctor Paul Thomas MD Pediatrician on How to prevent autism in our Children & How this information is hidden by the CDC and others
Doctor Paul Thomas a pediatrician with 1,000 children in his practice and a method of "vaccination" which has produced NO AUSTISM in his practice, shows you how COMMON it is to get autism after the deadly MMR. Please watch this video several times, let it sink in and ACT on your conclusions. SOMEONE is lying, either the CDC or Doctor Thomas. My money is on this brave pediatrician. The highly political CDC has lied continuously to cover up the deadly MMR and other autism producing "vaccinations" such as the Hep B.
"Dr. Thomas also referenced a Norway study tracking folate intake and autism in 85,000 pregnancies over 6 years. Norway had a 1 in 1,000 rate of autism, compared with the U.S. rate of 1 in 100 at that time. (The autism rate in the U.S. is now a staggering 1 in 50). So, what's the difference between the two countries? For one, Norway does not administer the Hepatitis B vaccine to newborns as the U.S. does. Paul Thomas M.D. is currently seeing more than 1,000 kids in his practice who are at least 3 years old, and he has seen no new cases of autism; this as compared with his U.S. peers seeing 1 out of 50 on the [Autism] spectrum." Doctor Paul Thomas on Autism and the Deadly MMR and Hep B vaccinations
"High titre vaccines, like natural measles, cause long term disruption of immune function, including an imbalance in the type of helper T cell response … The message is clear. Strategies involving vaccination in infants with maternal antibody, or new measles vaccines, must be tested in randomized trials in which the end point is mortality and not a surrogate effect such as measles antibody titre. [42]"
Adrianne Bendich, 1992 Note this powerful paper MUST be read. Vitamins A, C and D can completely obviate all "need" for "vaccination" IMO
"I never dreamed drug companies could actually be accelerating the pandemic timeline by contaminating vaccine materials with live avian flu viruses known to be highly infectious to humans. You can believe what you will. ... In either case, the world is not a very safe place when deadly viral strains are placed in the hands of the inept." Baxter: Vaccine Product contained live bird flu virus
Most of the childhood disease we currently "vaccinate" for can IMO much more efficaciously, safely and salubriously dealt with with the Anti-Infective Vitamins D, C and A and a few other anti-bacterial and antiviral agents and methods.
These diseases are either viral or bacterial and the anti-infective vitamins et al deal quite nicely with BOTH. So instead of letting some stranger inject toxins made by unethical people under the direction of Federal Agencies who have obfuscated the cause of Autism, into your babies you can learn how to assure you get the required amounts of these simple vitamins, minerals and adjuncts in your babies YOURSELF. The whole dangerous toxic practice of "vaccination" will then be removed from your and your children's lives. Currently millions of families have successfully done and are doing this.
Go to the pathogen protocols to Learn about the enemy
Then go to the pathogen fighting protocols to learn how to fight the pathogens. There you can also learn ways other than vitamins and minerals to fight the pathogens.
An important point about vitamins A, C, D and Cholesterol is that they have a maintenance state and an anti-infective state. When your body is healthy and not fighting any serious infection or inflammation the requirements for these nutrients are nominal. However when your body is fighting a serious systemic infection their requirements can skyrocket. For example with vitamin A you may normally only need a few thousand IU/day but when fighting a serious life threatening infection Doctor Gary Gordon gives a 150 pound adult 400,000 IU/day. Most of this 400,000 IU will be burned rapidly fighting the infection. Likewise with vitamin C, when fighting an infection you will be able to ingest many more grams before reaching bowel tolerance, often 30 grams/day or more.
Vitamin D is a special case in that it must be present in sufficient amounts to power your innate immune system BEFORE encountering the PATHOGEN. Without this SUFFICIENT (at least 60 ng/ml IMO) amount of preexisting bodily Vitamin D any infection may proliferate and become ORDERS of Magnitude harder to fight and defeat.
"This was a very hard video to post, my 12 yr old daughter was fine before her [HPV]vaccine, now this is her life. We live in New Zealand and I thought our healthcare system was ok, we have been left to deal with this ourselves. I'm showing this because I want people to know what damage this vaccine can and does cause." Note the medical system abandons you after vaccine damage. "There is nothing we can do." There is, do not poison our children you bastards. Parents can do a lot before "vaccination". DO NOT "VACCINATE."
Multiple Vaccine Office Visits are Killing our Kids
Please one at a time or not at all. Not at all is better.

"Upon analysis, the team found that the more vaccines a child receives during a single doctor visit, the more likely he or she is to suffer a severe reaction or even die. According to Heidi Stevenson from Gaia Health, for each additional vaccine a child receives, his or her chance of death increases by an astounding 50 percent — and with each additional vaccine dose, chances of having to be hospitalized for severe complications increase two-fold. To sum it all up, the overall size of the vaccine load was found to be directly associated with hospitalization and death risk, illustrating the incredible dangers of administering multiple vaccines at once." Relative trends in hospitalizations and mortality among infants by the number of vaccine doses and age, based on the Vaccine Adverse Event Reporting System (VAERS), 1990–2010

"[A] confidential study conducted by Connaught Laboratories, a vaccine manufacturer, indicated that ''a fifty-fold under-reporting of adverse events'' is likely. According to David Kessler, former commissioner of the FDA, ''only about one percent of serious events [adverse drug reactions] are reported."

This SHOULD be absolutely devastating for multiple "vaccine" office visits. I doubt it will be as everyone seems to be asleep.

Good Body Levels of Vitamin D Handles Viral Disease

"The "pathogenicity " of a virus is primarily determined by the ability of the host to resist infection. Nutritional status is an obvious critical factor in strengthening natural immunity & resisting infections of all types.

"

http://www.ncbi.nlm.nih.gov/pubmed/10639322. Note here it is folks when our natural immune system is weak we get viral infections including Ebola

Here we see it is not the virulence of the pathogen but the strength of the immune system of the host that is the MAIN factor in overcoming any pathogen.

"Research has confirmed that "catching" colds and flu may actually be a symptom of an underlying vitamin D deficiency. Less than optimal vitamin D levels will significantly impair your immune response and make you far more susceptible to contracting colds, influenza, and other respiratory infections." Doctor Joseph Mercola MD

"Vitamin D is necessary to trigger T cells—the immune system's killer cells—into action, and insufficient levels of the vitamin mean the cells remain dormant and inactive, according to findings published in Nature Immunology. When a T cell is exposed to a foreign pathogen, it extends a signaling device or 'antenna' known as a vitamin D receptor, with which it searches for vitamin D. This means that the T cell must have vitamin D or activation of the cell will cease. If the T cells cannot find enough vitamin D in the blood, they won't even begin to mobilize." Professor Carsten Geisler

"Conclusion: This study suggests that vitamin D3 supplementation during the winter may reduce the incidence of influenza A, especially in specific subgroups of schoolchildren." Randomized trial of vitamin D supplementation to prevent seasonal influenza A in schoolchildren Note low levels of vitamin D3 (2000 IU) were used here; double of triple the dose would have had radically better results IMO

MANY doctors in this country are repleting their clients to 50 ng/ml or higher with vitamin D3 and have found almost universally NO SERIOUS FLU results. Their clients may get MILD "flu symptoms" then the VITAMIN D rapidly conquers each and every of the 200 or more viruses which may be causing the "fly symptoms". No MATCHING of any sort is required. Even the new bio-weapon viruses our labs are Constantly cooking up should be covered. 70ng/ml may be safer for bio-weapons.

The seasonal flu and ALL Viral flu as well as many Lung Infections occurring during "flu season" are mostly due IMO to low vitamin D levels. Vitamin D allows your body to defeat these threats almost immediately BEFORE they can enter your deep lungs where they are much harder to defeat and can do a lot of damage.

You must build your vitamin D body levels up to optimal BEFORE the pathogen attacks. If your levels are LOW when the pathogen attacks it may get a good foothold and will have to battled with vitamin C and other anti-infectives. It is much better to to knock the pathogen out when it first enters your body; this is the job of vitamin D.

"Children with the lowest vitamin D serum levels are 11 times more likely to develop respiratory infection.21 When 60,000 IU per week of vitamin D was administered (for six weeks) to children with frequent respiratory infections, the result was a complete disappearance of such infections in the following six months.22 In a controlled trial of African-American women, a low dose (800 IU a day) of vitamin D resulted in a three-fold reduction in cold and flu symptoms compared to those given placebo.23 Elderly people with low vitamin D status have been shown to be at increased risk of death from all causes, and are particularly vulnerable to wintertime infections.14,24-27" Take Vitamins With Your Heaviest Meal

"Vitamin D is necessary to trigger T cells—the immune system's killer cells—into action, and insufficient levels of the vitamin mean the cells remain dormant and inactive, according to findings published in Nature Immunology. When a T cell is exposed to a foreign pathogen, it extends a signaling device or 'antenna' known as a vitamin D receptor, with which it searches for vitamin D. This means that the T cell must have vitamin D or activation of the cell will cease. If the T cells cannot find enough vitamin D in the blood, they won't even begin to mobilize." Professor Carsten Geisler

Good Levels of Vitamin C Handles Bacterial AND Viral Disease
"It might be interesting to learn how poliomyelitis was treated in Reidsville, N.C., during the 1948 epidemic. In the past seven years, virus infections have been treated and cured in a period of seventy-two hours by the employment of massive frequent injections of ascorbic acid, or vitamin C. I believe that if vitamin C in these massive doses–6,000 to 20,000 mg in a twenty-four hour period–is given to these patients with poliomyelitis none will be paralyzed and there will be no further maiming or epidemics of poliomyelitis." Doctor Klenner MD in front of AMA Conference Note the AMA did not follow up on this blockbusting work. I wonder why?

"Doctor. Klenner was an early pioneering orthomolecular physician who treated many different maladies successfully, including polio, with massive doses of different vitamins. Vitamin C was the major medicine he employed for polio. … Dr. Klenner received his fair share of polio victims during a 1948 epidemic. He cured them all, even one with both legs paralyzed. He asserted: "When proper amounts are used, it will destroy all virus organisms. Don't expect control of a virus with 100 to 400 mg of C."

Doctor Klenner, Polio and Vitamin C Note Klenner is talking about many 100s of grams of vitamin C

"Neuramidase inhibition, which prevents viral release from infected cells, is only one of more than ten ways that vitamin C helps knock out viruses, both by inhibiting the virus itself, and by strengthening the body's own immune response, for example by improving immune cell function (eg macrophages and t-lymphocytes), upping interferon and nitric oxide and making more antibodies which target viruses."

"Vitamin C is known to contribute to the development of antibodies and the neutralization of toxins in the building of natural immunity to infectious diseases. There is a very potent chemotherapeutic action of ascorbic acid when given in massive repeated doses, 500 to 1,000 mg (hourly), preferably intravenously or intramuscularly. When thus administered the effect in acute infectious processes is favorably comparable to that of the sulfonamides or the mycelial antibiotics, but with the great advantage of complete freedom from toxic or allergic reactions."  Doctor William J. McCormick 1955

Vitamin C has been demonstrated to destroy viruses. If you do not apply the vitamin C soon enough you may need 50 - 100 grams/day or more. As you probably cannot, IMO try, absorb these amounts orally you may need to have a doctor treat you intravenously with the vitamin C.

Vitamin A is CRITICAL to Defeat a Viral/Bacterial Attack

"A number of studies included in the meta analysis showed vitamin A to have no effect on respiratory infections while nevertheless reducing severe diarrhea by over 20 percent, gastrointestinal-associated mortality by over a third, infection-associated mortality by half, and measles incidence by 95 percent. The general picture that emerges from the scientific literature is that vitamin A consistently reduces mortality from severe infectious diseases but has a more complicated relationship to lower respiratory infections that we still do not completely understand." Weston Price Foundation

"Vitamin A is incredibly important – particularly at this time of year when we are all trying to fight off the winter colds and flu. It boosts our immune system and reduces the risk of inflammation such as that associated with chest infections. What our research shows is that many women are simply not getting enough of this vital nutrient because their bodies are not able to convert the beta-carotene." Doctor Georg Lietz Newcastle University, Note The team found that 47 percent of the women had a genetic variation that reduced their ability to convert beta-carotene into vitamin A. For these women and MANY of us, taking preformed vitamin A when fighting infection is CRITICAL.

"I have found supplemental doses of vitamin A are an outstanding way to reverse cellular changes on surfaces. That includes skin (outer) and intestines (inner). Now we see it helps interior cells as well (prostate). The late Dr. William Donald Kelley used potent doses of vitamin A in many of his cancer patients. Vitamin A is essential to maintain your surface cells (epithelial tissues) as physical barriers to infection. It also is closely involved in maintaining many types of immune system cells. In my experience, adding folic acid drops, 5 mg three times daily to vitamin A, 100,000 IU daily for three to six months has reversed many premalignant conditions. If you are at risk of prostate cancer, take this information to your integrative physician and have him supervise your vitamin A intake. It could save your life." Doctor Robert Rowen MD

"A short-term use of high-dose Vitamin A -- 400,000 units daily for up to one week for average 70kg adults can be useful as an anti-infective measure." Doctor Garry Gordon

"Supplies of vitamin A are so vital to the human organism that mankind is able to store large quantities of it in the liver and other organs. Thus it is possible for an adult to subsist on a fat-free diet for a considerable period of time before overt symptoms of deficiency appear. But during times of stress, vitamin A stores are rapidly depleted. Strenuous physical exercise, periods of physical growth, pregnancy, lactation and infection are stresses that quickly deplete vitamin A stores." Sally Fallon and Mary G. Enig, PhD

"Vitamin A may play a critical role in the production of energy in our cells, says an international team of researchers who claim to have solved the question of why vitamin A deficiency causes so many diseases. According to findings published in the FASEB Journal, vitamin A (retinol) may play a role in the synthesis of ATP in mitochondria—the power plant of the cells—and when vitamin A is deficient the production of energy is reduced by 30%." scientists-identify-vitamin-a-role-in-energy-production

So, if your cellular immune system is not functioning properly, you are a sitting duck for measles. So, that means - and Dr. Gregory Poland has also shown this - that vitamin A changes the epigenetic profile of your cellular immune function. So, we have ways; you feed the cellular immune system properly, and it works." Paul Offit's vaccine lies deconstructed: A mind-blowing interview with Dr. Suzanne Humphries

Vitamin A has many functions that must be operative during ANY infective or inflammatory attack. You cannot effective fight off any pathogen without vitamin A in sufficient amounts. If you do have insufficient amounts of vitamin A they will quickly be drained by the fight and you will be in big trouble.

Also See Childhood Disease Protocol

Also See Child Development Disease

Also See Natural Immunity

Also See Anti-infective Vitamins

Also See Vaccine Efficiency

Also See Vaccination Unsafe

Also See Vaccination SIDS

Also See Vaccination Science

Also See Vaccination Wellness