Autism Overview
"In the case of autism, Dr. James Bradstreet has so far treated 1,100 patients with GcMAF with an 85% response rate. His results show a bell curve response with 15% of the patients showing total eradication of symptoms and 15% showing no response." GcMAF, 8 Dead Doctors, Anti-Vaccine, & Healing: Note Doctor Bradstreet was almost certainly murdered because he was curing Autism. The Nagalase he was finding directly after "vaccination" was almost certainly coming from that "vaccination". This is why he was murdered IMO. IMO please give his Autism Protocol a GOOD look and please stop injecting that Nagalase into your children or ANYONE.
What GcMAF is Doing with Autism
Also see Nagalase - GcMAF Protocol
Rest In Peace Doctor Bradstreet. We Will Follow Your Path

"I raised my children on a natural food diet. They have NEVER had a single dose of an antibiotic. Do kids get sick, sure. Do they need a drug to get better, no. Do we have a pediatrician, of course. Do we go, did not have to." Doctor Andrew Saul MD Note NOT visiting a "pediatrician" has NUMEROUS benefits and almost NO drawbacks; just the opposite of "vaccination". "Vaccination" IMO is the greatest driver of antibiotic drug use in children. As always there are a few good pediatricians, damn few IMO.

"As the truth about horrendous vaccine-damage to babies emerges and spreads, doctors need advice on how to avoid blame. So this article is offered as a public service to the medical profession. Dear Doctor, your best defense is: "I'm practicing proper medicine." Always remember that. Don't wobble. Don't explain. Just keep saying it. It works. After all, you have decades of propaganda behind you. Make those lies operate for you. Stand on them. It's your best strategy. In your heart of hearts, you know you're damaging the brains and nervous systems of many babies. But don't give in. Just keep vaccinating them. Just keep the basic mantra going: "I'm practicing proper medicine." Under no circumstances should you let conscience be your guide. That would put you in a world of trouble..." Dear Doctor: How to Avoid Blame for Causing Autism

Doctor Paul Thomas MD Pediatrician on How to prevent autism in our Children & How this information is hidden by the CDC and others

Doctor Paul Thomas a pediatrician with 1,000 children in his practice and a method of "vaccination" which has produced NO AUSTISM in his practice, shows you how COMMON it is to get autism after the deadly MMR. Please watch this video several times, let it sink in and ACT on your conclusions. SOMEONE is lying, either the CDC or Doctor Thomas. My money is on this brave pediatrician. The highly political CDC has lied continuously to cover up the deadly MMR and other autism producing "vaccinations" such as the Hep B.

"Dr. Thomas also referenced a Norway study tracking folate intake and autism in 85,000 pregnancies over 6 years. Norway had a 1 in 1,000 rate of autism, compared with the U.S. rate of 1 in 100 at that time. (The autism rate in the U.S. is now a staggering 1 in 50). So, what's the difference between the two countries? For one, Norway does not administer the Hepatitis B vaccine to newborns as the U.S. does. Paul Thomas M.D. is currently seeing more than 1,000 kids in his practice who are at least 3 years old, and he has seen no new cases of autism; this as compared with his U.S. peers seeing 1 out of 50 on the [Autism] spectrum." Doctor Paul Thomas on Autism and the Deadly MMR and Hep B vaccinations

How do YOU Protect YOUR Children from Autism and Many Other Diseases?

IMO a good start is NO VACCINATION "Vaccination" is a deadly fraud. It has "protected" very few and has injected into "vaccination" victims MANY diseases to include Autism the ASD diseases, The Diseases of "Vaccination" and the diseases of Weaponized Mycoplasma.

Do "Vaccines" Cause Autism? Please pass around this powerful video

Doctor William Thompson PhD Blows the Whistle on "ONE" CDC Cover Up of Autism

"After reviewing some of the CDC data received by Dr. Thompson, as well as data records acquired through freedom of information submissions, Prof. Hooker discovered that the CDC has known since 2001 that children exposed to thimerosal in utero were 800 percent more likely to regress into autism. This data was intentionally excluded from the CDC paper published in the journal Pediatrics in an effort to disprove a thimerosal-autism association. During the radio broadcast, Prof. Hooker unearthed evidence that the CDC has known for a decade that children receiving the MMR vaccines on schedule were nearly 300 percent more likely to regress into autism compared to children whose parents decided to withhold the vaccine until after the child was older." What if the Vaccine Paradigm itself is Deliberately Flawed?

Note here it is ladies; protect your fetus and child NO NEEDLES.

"Dr. Thompson, who co-authored and published research on vaccine thimerosal mercury—still included in some vaccines, especially the influenza vaccine—has admitted he was part of the CDC's conspiracy to obscure scientific evidence proving thimerosal and the MMR vaccine as causal factors for autism. During an interview on the Autism Media Channel, he stated that he would never give his pregnant wife a flu shot because of its high concentration of mercury. "I don't know why they still give it to pregnant women," Dr. Thompson stated. "That's the last person I would give mercury to."[1]" Vaccine McCarthyism. What if the Vaccine Paradigm itself is Deliberately Flawed?

"A current Centers for Disease Control (CDC) senior scientist has made an unprecedented admission: he and his colleagues–he says– committed scientific misconduct to cover up a meaningful link between vaccines and autism in black boys. Just as startling, the CDC scientist, Dr. William Thompson, says the study co-authors "scheduled a meeting to destroy documents related to the study. The remaining four co-authors all met and brought a big garbage can into the meeting room, and reviewed and went through all the hardcopy documents that we had thought we should discard, and put them into a huge garbage can."
CDC Scientist: 'We scheduled meeting to destroy vaccine-autism study documents'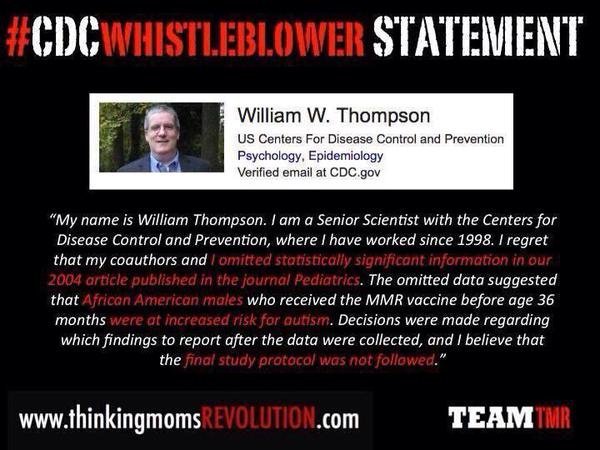 The Autism/ASD/Vaccine Damage epidemic is found in all countries that have allowed mass vaccinations. It is found nowhere else.
"In New Delhi, India, prior to 2000, ASD/PDD (autism spectrum disorder/pervasive developmental disorder) symptoms were rare – typically only occurring in children who were vaccinated abroad. However, after the Indian pediatricians began recommending, in 2000, the addition of triple-dose Thimerosal-preserved Hib (Haemophilis influenza B) and Hep B (hepatitis B) vaccination programs to the existing Thimerosal-preserved triple dose DTP (diphtheria toxin, tetanus toxin and pertussis toxins) vaccination program recommended by the Government of India, the incidence of a childhood ASD/PDD diagnosis increased to 2 % to 4 % of vaccinated New Delhi children." Doctor Paul King PhD, Note folks here it is. Read and reread this PLEASE, Please observe all the mercury being dumped into these innocent Indian children. In the USA much of this neurotoxic mercury has been removed. IMO this is no accident. Depopulation is underway in India and China as well as the USA.
The simple truth is the "authorities" are lying to us. Autism is IMO 100% man made.
Commercially Corrupted Medicine Leading Cause of Death in USA
Immunity infectious disease and "vaccination" by Doctor Ray Obomsawin PhD Note this is a SEMINAL video that explains with graphics in terms very easy to apprehend, just what a Deadly FRAUD "vaccination" is. Watch this first to get the big picture.
Doctor Moulden on Society's problem with "Vaccination" and MANY diseases.
Doctor Andrew Moulden took degrees in three disciplines on his quest to understand autism and the ASDs. He has put the pieces together to prove vaccination is causing harm each and every time you vaccinate. You can learn more from Doctor Moulden at his protocol. There you can access his wonderful Tolerance Lost Series DVD which will give you the tools to help solve your problems with "vaccination".
"The great enemy of the truth is very often not the lie—
deliberate, contrived and dishonest, but the myth, persistent,
persuasive, and unrealistic. Belief in myths allows the
comfort of opinion without the discomfort of thought."
<![if !supportLists]> <![endif]> John Fitzgerald Kennedy (1917–1963)
"Roughly 30-50% of the population has undiagnosed learning disabilities.[2] Almost 3 million children (ages 6 through 21) have some form of a learning disability and receive special education in school.[3] Since 1992, the percentage of students who spend 80% or more of their time in school in special education classes increased from 21% to 45%.[4] Specific learning disabilities have increased 22% over the past 25 years. In the past decade, the number of students ages 6-21 years identified with specific learning disabilities has increased by 38%.[5] In 2003, approximately 7.8% of U.S. children aged 4-17 years had ADHD diagnosed. Why?"

Note the 25 mcg of MERCURY and other garbage many kids are getting in their "flu shot" and other "vaccines" is IMO a good part of these problems
Good News for Children – Vaccination Opt-Outs on the Rise
"Pediatricians are the last people we should trust with our children. They play on parents' fears and on parental caring and love while they deliberately attack their young patients with known neurological poisons. Even though the 2004 Institute of Medicine report accepted that thimerosal, a mercury-based preservative in vaccines, can injure the nervous system, doctors continue to inject mercury into their young patients. In drinking water, mercury cannot exceed 2 parts per billion. A liquid with more than 200 parts per billion of mercury is considered hazardous waste. A mercury-containing flu shot vial has 25,000 parts per billion of mercury." The Terror of Pediatric Medicine.
"A hundred years ago it was also a few powerful men who hijacked the world of medicine. These despicable souls were able to corrupt medical schools to the point of creating an army of criminals wearing white coats and calling themselves doctors. The worst of them call themselves pediatricians as they attack newborns and children with vaccines laced with poisons. They have been conditioned in medical school like Pavlov's dog and remain permanently blind to any of the evidence that points to their wrongness of action and being. That is why I wrote and have been giving away, as a free e-book," The Terror of Pediatric Medicine
If you have an autistic child or do not wish to have an autistic child You MUST extensively educate yourself on vitamin D, vaccination and intestinal flora. I attempt herein to provide extensive information on the prevention of autism and how some professionals are having success treating autism with vitamin D, removing mercury and other toxins, establishing proper gut flora and other methods. Things are looking up for autism but only YOU can make it happen in your family. There is a whole world of Vaccine Industry and HHS induced autism darkness out there.
This Protocol is not intended to Treat Autism
Please Note: I do not recommend parents treat their autistic children on their own; however IMO it is very important to understand more than average about YOUR child's autism or potential autism to assure YOUR doctor is above average among other reasons. The more you know about autism the better equipped you are to prevent this man made scourge in your planned children, fetus or infant and if need be deal with it in your infant. This protocol is intended to help keep your planned children, children or fetuses from getting the man made scourge of autism by giving you some key information on autism.
You can greatly Reduce the odds of Autism as IMO Autism is largely a Man Made problem
Autism unknown until THIMEROSAL is injected into humans
Today We can Reduce the Risk of Autism
Autism is a quite complex disease with MANY factors. We have identified several key autism risk factors. Since ALL these risk factors are toxic and relatively easily avoided IMO we can VASTLY reduce our risk of autism by simply eliminating these toxic players from our and our children's lives.
Risk factors for Autism
The simple truth is the "authorities" are lying to us. Autism is IMO 100% man made.
Unwarranted trust in the "Medical System" Trust yourself, VERIFY EVERYTHING, We should KNOW the "Medical System" and the "authorities" are LYING to us about MANY important medical and other topics; autism is one of these. MOST doctors are good honest people. YOU MUST spend some time resolving this seeming contradiction. Please PUT IN THE TIME. This is a much BIGGER issue than only autism or even medicine.

Vaccination

Vitamin D Deficit

Mercury especially in "vaccines"

Aluminum especially in "vaccines"

Antibiotics often given because of "vaccines"

Drugs

Excitotoxins MSG, Aspartame, artificial sweeteners, food dyes et al

Food Allergies often from "vaccines"

Junk "Food" eat organic or mostly organic little to no processed or fast food

Gut Dysbiosis often from "vaccines"

GMO "foods"

Magnesium Deficit

Zinc Deficit
Vitamin D and Autism

"The scientific data stress the importance of the mother having enough vitamin D while she is pregnant and the child having enough vitamin D after birth for normal brain functioning." Doctor Kalueff NIMH

"For reasons I do not yet understand, many autistic children first start responding to vitamin D only when their blood level reaches 90–100 ng/ml. In fact, I know of a case where the mother made a mistake and gave ten times the suggested dose and the autistic child had a miraculous and rapid response. How could that be? I do not know.? Doctor John Cannell MD, Note we know vitamin D affects over 3000 genes obviously this matters a great deal with autism. If you have an autistic child You MUST extensively educate yourself on vitamin D

"Unlike other steroids, the body cannot create the activated vitamin D it needs directly from cholesterol; all of the body's activated vitamin D must come from simple vitamin D—either made in the skin or taken orally. Levels of activated vitamin D during brain development directly depend on the mother's vitamin D levels, which in turn, directly depend on the amount of vitamin D the mother makes in her skin or ingests orally."

Doctor John Cannell of the Vitamin D Council commenting on the work of fellow vitamin D expert Reinhold Vieth

"4,000 IU/day during pregnancy was safe (not a single adverse event) but only resulted in a mean Vitamin D blood level of 27 ng/ml in the newborn infants, indicating to me that 4,000 IU per day during pregnancy is not enough. During pregnancy, 25(OH)D (Vitamin D) levels had a direct influence on activated Vitamin D levels in the mother's blood, with a minimum Vitamin D level of 40 ng/ml needed for mothers to obtain maximum activated vitamin D levels. As most pregnant women have Vitamin D levels less than 40 ng/ml, this implies most pregnant women suffer from chronic substrate starvation and cannot make as much activated Vitamin D as their placenta wants to make." Doctor John Cannell MD, Note we know about 6300 IU is required for good vitamin D in your milk. IMO not a bad idea for pre-pregnant women also

"In the last 3 years, an increasing amount of research suggests that some of the damage done by Vitamin D deficiency is done in-utero, while the fetus is developing. Much of that damage may be permanent, that is, it can not be fully reversed by taking Vitamin D after birth. This research indicates Vitamin D deficiency during pregnancy endangers the mother's life and health, and is the origin for a host of future perils for the child, especially for the child's brain and immune system. Some of the damage done by maternal Vitamin D deficiency may not show up for 30 years." Pregnancy and Vitamin D Deficiency

"Only 1% to 13% of infants under 1 year now get a vitamin D supplement, available in inexpensive drops, according to a study published online today in Pediatrics. Those drops are needed, the study says, because only 5% to 37% of American infants met the standard for vitamin D set by the American Academy of Pediatrics in 2008: 400 international units a day." Life Extension

, Note 400 IU MAY be enough for a 10 pound infant. I would definitely take my baby in the sun for HOURS when he developed a tan.

"A Scientific American article asks, "What if Vitamin D Deficiency is a Cause of Autism?" (1) How could vitamin D deficiency during pregnancy cause autism, a genetic disease? Indeed, five researchers at Harvard, led by Dr. Dennis Kinney, recently endorsed and then modified the vitamin D theory of autism.(2) Very recently, Dr. Darryl Eyles, of the University of Queensland, added his name to growing list of scientists who agree that vitamin D deficiency plays an important role in autism. (3) Writing in Acta Paediatrica, arguably the most read pediatric journal in the world, Dr. Eyles praised the vitamin D theory of autism as being "parsimonious," with the animal studies he has conducted over the last decade." SAN LUIS OBISPO, Calif., 2010 June 23 /PRNewswire-USNewswire

Vitamin D is a broad and deep subject. One thing is clear both most mothers, fetuses, infants and children are not getting enough of this KEY nutrient to support neurodevelopmental fetal, infant and child health. IMO you MUST take the time to completely understand vitamin D and your and your children's vitamin D requirements and how important the SUN is in your lives.

Vaccination and Autism
"Vaccination may inflame your brain for as long as TWO YEARS after you get the vaccination." Doctor Russell Blaylock MD

"The epidemiological evidence is compelling and statistically conclusive we found that the prevalence of speech disorders, autism and heart arrest was a function of the mercury dose that the children received." Geier and Geier

"Mercury poisoning and autism have nearly identical symptoms,60" DISPELLING VACCINATION MYTHS:

"The MMR vaccine was not adequately tested and should not have been licensed." Journal of Adverse Drug Reactions Jan 2000

, Note how in heavens name are we supposed to "trust" these people?

"The medical authorities keep lying. Vaccination has been a disaster on the immune system. It actually causes a lot of illnesses. We are actually changing our genetic code through vaccination...100 years from now we will know that the biggest crime against humanity was vaccines."

Guylaine Lanctot, M.D

"But my second realization was even sadder: vaccines are recommended for the entire childhood population. Overwhelming scientific evidence now exists of their potential for permanent neurological and developmental damage - these sources are carefully evaluated in my new book. Yet the only parents who are interested in learning about their kids' chances of vaccine injury seem to be those whose lives have already been directly affected, usually as the result of permanent damage to their own child. When it's too late, they study it. Or as Sascha Sarnov says, the child goes to sleep as the parent wakes up." The Psychology of Vaccine Injury Awareness

"We have a fairly large practice. We have about 30,000 or 35,000 children that we've taken care of over the years, and I don't think we have a single case of autism in children delivered by us who never received vaccines," said Dr. Mayer Eisenstein, Homefirst's medical director who founded the practice in 1973. Homefirst doctors have delivered more than 15,000 babies at home, and thousands of them have never been vaccinated.

"

Non vaccinated Children do not get Autism

"ALL vaccines are and have been causing ischemic (impaired blood flow) damages - to all - creating a plethora of chronic illnesses, disease, and in some instances...death. The injury from vaccination is additive, each vaccination further injures." Doctor Andrew Moulden MD, PhD

"Children who receive the entire 3-shot series of Hepatitis B Vaccine have a 9x higher rate of developmental disabilities than unvaccinated children." Fourteen Studies

A wonderful dialog between a mother of an autistic child and Doctor Cannell MD; You WILL learn MUCH about Autism and how to help your autistic child by following this dialogue.

What is 'vaccine spectrum disorder' and why is it called autism?

If "vaccination" is to be done at all and IMO It should NOT be done, please consider delaying this neurodevelopmentally-degenerative and immunodevelopmentally-degenerative practice until AFTER your child's brain and immune system have a chance to develop or until your child is over the age of four. Your child will still be damaged in many ways by "vaccination' but perhaps less.

However as we are seeing in our senior citizens the "flu shot" is giving our seniors Alzheimer's; so beware.
Good News for Children – Vaccination Opt-Outs on the Rise
Gut Problems and Autism
"Sometimes as in the case of autistic children their weakened immune systems cannot handle "inactivated" live virus and can't fight it off. So the live virus hangs around in their body creating inflammation on a low- grade level - both in the gut and the brain."

Doctor Mark Hyman MD
Doctor Natasha Campbell-McBride's gut and Psychology Syndrome (GAPS) Theory of Autism
"Mothers of my generation who have daughters who are growing up now—now is the time to assess your daughter, See what her gut flora is like. How is she doing before she's ready to conceive or have children? Prepare them for it to avoid the huge amount of grief in the family of having a grandchild with autism, hyperactivity, obsessive-compulsive disorder, or some other disorder. This is because the proportion of girls with damaged gut flora is growing in our modern world, and they are heading to having unhealthy children." Doctor Natasha McBride MD
"Establishment of normal gut flora in the first 20 days or so of life plays a crucial role in appropriate maturation of your baby's immune system. Hence, babies who develop abnormal gut flora are left with compromised immune systems and are particularly at risk for developing such disorders as ADHD, learning disabilities and autism, particularly if they are vaccinated before restoring balance to their gut flora." Doctor Joseph Mercola MD
Doctor McBride has found vaccinating a newborn who has abnormal gut flora can often lead to autism. You MUST understand how this works. After visiting Doctor McBride's site and learning her GAPS training many have recovered their autistic children on their own with NO professional help.
Other Issues and Autism
"If you are an Rh-negative mother, remember that, although Thimerosal-free Rho-GAM became available in 2002, the supply of mercury-containing Rho-GAM is still on the market. Remember the word "thimerosal" means it contains 49.6% mercury. This is especially important because fifty-three percent of mothers of autistic children are Rh negative, while only three percent of mothers of normal children are Rh-negative." Why do 53% of autistic children have rh negative mothers?, Note allowing this mercury to be injected into fetuses is CRIMINAL IMO
"Manganese is a neurotoxic chemical which, owing to the processes involved in manufacture, is found in much higher concentrations in infant formulae, particularly soy-based formulae, than in breast milk. According to the Environmental Working Group, soy-based formulas contain about 80 times as much manganese as mothers' milk, while animal-based formulas contain about 30 times more. Elevated manganese levels have been linked to behavioral problems, such as Attention Deficit Hyperactivity Disorder (ADHD) later in life. Babies are not able to absorb and excrete excess manganese during the first year of life, say the EWG." Manganese Intoxication
"Unlike highly reactive iron and copper, zinc does not readily undergo oxidation and reduction, or redox, reactions. In redox reactions electrons are transferred to and from different compounds, sometimes resulting in the generation of free radicals. When zinc, instead of iron or copper, is incorporated into proteins, free radical generating reactions that may otherwise occur are inhibited." Mark A. Levy, PhD & Tammy M. Bray, PhD
"Partially digested dairy and wheat particles are found in the urine of severely depressed patients as well as children with autism and ADHD. I have treated autistic children who started to speak simply after going on a gluten and casein free diet" Doctor Mark Hyman

MD
There are several other important issues that can bear on autism. IMO it is a good idea to cover all bases.
Putting it all together
"A careful review of ASD cases discloses a number of events that adhere to an immunoexcitotoxic mechanism. This mechanism explains the link between excessive vaccination, use of aluminum and ethylmercury as vaccine adjuvants, food allergies, gut dysbiosis, and abnormal formation of the developing brain. It has now been shown that chronic microglial activation is present in autistic brains from age 5 years to age 44 years." Doctor Russell Blaylock MD
Doctor Blaylock identifies four strongly possible central issues in Autism.
We will look at these four issues and others in what follows.
Please proceed to the Autism Protection Protocol