Health Care Protocol
We need Health not "Health Care"
"What Dr. Eger discovered is that a medical problem called a "disease" may actually be nothing more than a "condition" brought on by lousy metabolism secondary to a bad diet. You might not know what organ will be most vulnerable to improper nutrition. For Kristen, it was her eyes. For you, it might be your heart or circulation. For another, it might be a weakened immune system leading to cancer. How many medical "conditions" (diseases) might be nothing more that subnormal nutrition? In fact, I would wager that another more prevalent eye "disease" — glaucoma — is directly related to diet, and could be helped the same way. The first place to start with any problem, or for pure prevention, is diet." Doctor Robert Rowen MD
"How can we, as a country, reduce exploding healthcare costs? By changing the way we do medicine. Too often we rely on treating symptoms and addressing health problems after they have reached the crisis state. Under the old way of thinking, this usually means hospital stays, vastly expensive surgery, expensive drugs with undesirable side effects, and other procedures common to conventional chronic care." AAHF
How to Understand Health Care and Other "Medical Mysteries"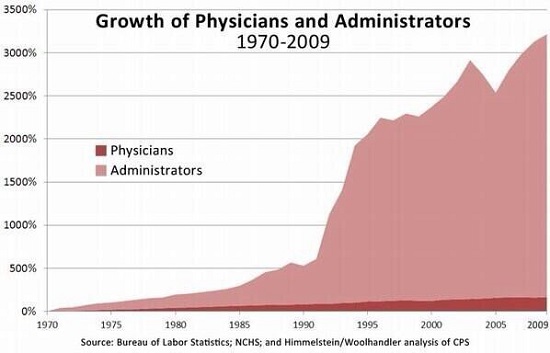 How in heavens sake is Big Medicine INC. going to cure anything with all this DEAD WEIGHT? Oh by doing it EXPENSIVELY. YOU can do it much better and inexpensively BUT YOU must do it. YOU do it by LEARNING.
Commercially Corrupted Medicine Leading Cause of Death in USA
"The great enemy of the truth is very often not the lie—
deliberate, contrived and dishonest, but the myth, persistent,
persuasive, and unrealistic. Belief in myths allows the
comfort of opinion without the discomfort of thought."
<![if !supportLists]> <![endif]> John Fitzgerald Kennedy (1917–1963)
"The more expert—or at least the more educated—a person is, the less likely that person is to see a solution when it is not within the framework in which he or she was taught to think. When a possibility comes up that is ruled out by the accepted framework, an expert—or well-educated individual—is often less likely to see it than an amateur without the confining framework. For example, one naturally prefers to consult a trained doctor than an untrained person about matters of health. But if a new cure happens to be developed that is at variance with accepted concepts, the medical profession is often the last to accept it. This problem has always existed in all professions, but it tends to be accentuated under modern conditions." Herman Kahn, Nuclear War Strategist, Note you MUST burst through your ingrained propaganda and start to see the Medical Facts and operate on them.
"Virtually NO ONE should be having heart attacks today." Life Extension, Note one half of us die needlessly from CVD WHY?
We need Health not "Obama Health Care"
Is this funny? Not really. Is this an accurate representation of our sick "Health Care"? YES!
This book will do more to change your ideas on the ABSOLUTE importance of nutrition than any other IMO.
"The diets of healthy primitive and non-industrialized peoples contain no refined or denatured foods such as refined sugar or corn syrup; white flour; canned foods; pasteurized, homogenized, skim or low-fat milk; refined or hydrogenated vegetable oils; protein powders; artificial vitamins or toxic additives and colorings." Weston A, Price Foundation
"Circling the world in the 1920s and 30s, Doctor Price and his wife found the same sinister pattern among "primitive" populations, whether isolated Irish fishermen, tribal Africans, Pacific Islanders, Eskimos, North and South American Indians or Australian Aborigines. Those groups that followed their traditional nature-based diets enjoyed good health and vigor and those that turned to the 'civilized' diet of processed, sugar-laden foods soon developed a variety of ills, including misshapen bones and teeth-and the situation worsened with each generation." Doctor Robert M. Cathcart MD
"In 1992, Johns Hopkins researched natural ways to squelch cancer. A diet high in cruciferous vegetables was identified as a factor that lowered the incidence. Additional research identified broccoli as having some of the most potent anti-cancer activity. Since then, when they finally looked into sprouted broccoli seeds, researchers discovered that the phytochemical in the sprouts killed cancer dozens of times more effectively than mature broccoli! The reason why they teach that sprouts are a core food at the Institute is because sprouts, depending on the variety, are anywhere from 10 to 30 times more nutritious than the best organic vegetables you can grow in the best organic soil The Hippocrates Health Institute Demonstrates How Food Can Be Used as Medicine
"Cancer is not a natural disease for man and is preventable." Brian Peskin PhD
, Note why are 1/4 of us dying of cancer?
"As a retired physician, I can honestly say that unless you are in a serious accident, Your best chance of living to a ripe old age is to avoid doctors and hospitals and learn nutrition, herbal medicine and other forms of natural medicine [i.e. PREVENTION]. Almost all drugs are toxic and are designed only to treat symptoms and not to cure anyone. Most surgery is unnecessary. In short, our mainstream medical system is hopelessly inept and/or corrupt. the treatment of cancer and degenerative disease is a national scandal. The sooner you learn this, the better off you will be." Doctor Allan Greenberg on 12/24/2002
You will never see, as in the case of health care, a very complex depopulation-weapon, if you are looking at a universe that does not include depopulation-weapons.
Our Problem is HEALTH Not "Health Care"
All the elements of good government "health care": FORCE, inattention, delay, ineffective treatment and high cost. Oh I forgot POOR HEALTH.
"Health is not something bestowed on you by beneficent nature at birth; it is achieved and maintained only by active participation in well defined rules of healthful living, rules you may be disregarding every day." Henry Bieler MD
"Health cometh not from healthcare," says preventive cardiologist John Mandrola who summarizes this report by saying: "the key determinant of a population's health is not gleaming new medical centers, but individual behavior." MedScape April 2016
"According to an editorial in the Journal of the American Medical Association, only about 10-20% of positive health outcomes are accounted for by delivery of health care." Journal American Medical Association April 10, 2016
"Another recent authoritative report says only 3% of Americans live a healthy lifestyle, defined as being physically active, eating a healthy diet, avoidance of tobacco (which takes 10 years off a person's life), and having a lean body shape." Mayo Clinic Proceedings April 2016
A great debate rages in this country on how to provide "Health Care" for everyone. As you surf this site you will come to understand we as a country can no more provide health for everyone than we can provide a couple of million dollars for everyone. IMO health is more dear than the millions. With health we as a country will only need 20% or less of the "Health Care" currently demanded by our poorly taken care of bodies. Without health all the "Health Care" in the world will not bring us health.
Vaccination and Health Care
Folks to make a long story short please do not consider "vaccination", or if you do consider it as I do and do not "vaccinate' until over the age of 105.
Processed Food and Health Care
When you eat a diet of mostly processed food, you are eating largely GMO Soybeans, GMO Corn, GMO sugar, chemicals and other ingredients harmful to your health. Please read the labels to confirm this. This "food" will bring on health problems sooner rather than later. Likely you will visit your local sawbones. He will tell you "Ah yes you have type 2 diabetes; take this drug." The toxic drug will not solve your problem and will introduce other perhaps larger problems. If you eat right and exercise you will likely need very little "health care" because you have given yourself health care before the required care became critical.
Jeffrey M Smith on GMO's - FULL HD This must see video exposes the abject EVIL of GMO
GMO "foods" and Digestive Diseases
What the USA COULD do for Your Health
An honest government could assure our food and drink did not drag down our health as is currently the case. An honest government could sponsor honest medical testing to show the worth of simple inexpensive vitamins and minerals; an honest government could expose the cause of cancer and CVD.
Don't hold your breath; our corrupt government is owned by the corporations who profit by our poor and failing health. It's up to YOU to take care of yourself and those you love. You do NOT, for the most part, require "Health Care" to do this. "Health Care" is for the most part structured to fill you with toxic drugs which as we are seeing will in the end only cause you to lose the health you have. There are good doctors and medical professionals out there; you find them not by looking for free "Health Care" but by informed searching for individuals you should very rarely need.
Your Good Health is Not a Right You Must Earn it
The long term solution to most potential health problems is for YOU to understand the conditions that are necessary for the problem to develop in YOUR body and to keep those conditions from developing. This is not as daunting as it may seem at first glance. Thinking about YOUR health is required.
Your good health is not a right you must earn it, especially today when too much of society, including too much of the medical community is structured to bring down YOUR health.  No one is going to give you health. No government is going to guarantee YOUR health. IMO YOUR good health is dependent on YOU taking sole responsibility for YOUR health. Yes get knowledgeable help but learn enough to correctly evaluate ALL advice. IMO you must work academically at least as much as it took you to get thru high school. You MUST read! Watching tv will sink you.