Pregnancy Protection Protocol
How do YOU Protect YOUR Children, Your Family and Yourself and Assure a Healthy Birth?
IMO a good start is NO VACCINATION "Vaccination" is a deadly fraud. It has "protected" very few and has injected into "vaccination" victims MANY diseases to include, Autism the ASD diseases, the diseases of "vaccination" and the diseases of Weaponized Mycoplasma.
IMO NONE, NONE, NONE See DTaP Protocol
"After reviewing some of the CDC data received by Dr. Thompson, as well as data records acquired through freedom of information submissions, Prof. Hooker discovered that the CDC has known since 2001 that children exposed to thimerosal in utero were 800 percent more likely to regress into autism. This data was intentionally excluded from the CDC paper published in the journal Pediatrics in an effort to disprove a thimerosal-autism association. During the radio broadcast, Prof. Hooker unearthed evidence that the CDC has known for a decade that children receiving the MMR vaccines on schedule were nearly 300 percent more likely to regress into autism compared to children whose parents decided to withhold the vaccine until after the child was older." What if the Vaccine Paradigm itself is Deliberately Flawed?

Note here it is ladies; protect your fetus and child NO NEEDLES.

"Dr. Thompson, who co-authored and published research on vaccine thimerosal mercury—still included in some vaccines, especially the influenza vaccine—has admitted he was part of the CDC's conspiracy to obscure scientific evidence proving thimerosal and the MMR vaccine as causal factors for autism. During an interview on the Autism Media Channel, he stated that he would never give his pregnant wife a flu shot because of its high concentration of mercury. "I don't know why they still give it to pregnant women," Dr. Thompson stated. "That's the last person I would give mercury to."[1]" Vaccine McCarthyism. What if the Vaccine Paradigm itself is Deliberately Flawed?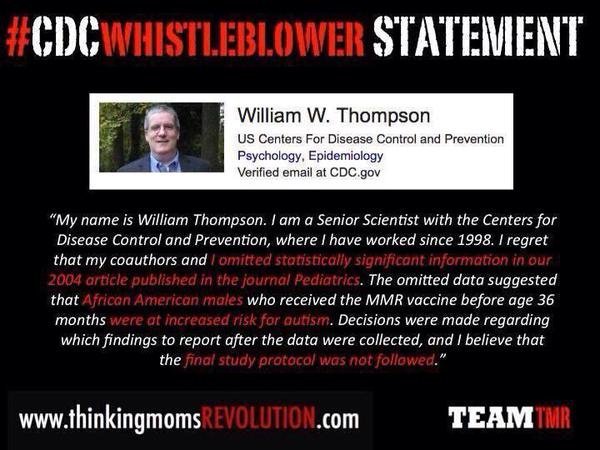 The simple primal act of getting LOTS of the high noon sun on your bare "unprotected" skin in large amounts just may be the most important single thing you can do for your health. Your embryonic child's brain depends on the vitamin D in your body. If the sun casts a shadow longer than you are tall you cannot make adequate vitamin D from the sun. You MUST take vitamin D3 at the daily rate of about 1000 IU/20 pounds of body weight.
Vitamin D Expert Doctor Holick's Excellent Entertaining Amusing Video Vitamin D Presentation
"All pregnant women should take 4,000 international units of vitamin D daily - 10 to 20 times the dose the leaders of Canada's pregnancy specialists currently recommend - to lower their risk of preterm labor, preterm birth and infections concludes the first study to investigate the safety of high doses of vitamin D during pregnancy. The study found that women in its 4,000-IU-a-day group had half the risk of premature delivery than women who took just 400 IU of vitamin D daily." http://healthfreedoms.org/higher-does-of-vitamin-d-lowers-risk-of-preterm-births/ , Note we know about 6600 IU is required for good vitamin D in your milk. IMO not a bad idea for pre-pregnant women also
"Let your food be your medicine, and your medicine be your food" – Hippocrates
"Interestingly, the reason why infantile scurvy was predominant among wealthy families is that poor families could not afford pasteurized milk. They had to rely on breast feeding. Pasteurization (heating) destroys the vitamin C naturally contained in cow's milk. Scurvy killed thousands of infants before vitamin C was discovered." How Obvious Cures Are Overlooked Note here we see once again the absolute importance of BREAST FEEDING your babies. You are delivering large amounts of the absolutely critical vitamin C to your offspring, vitamin C they are probably not getting without breast feeding
"The kitchen is more important than the pharmacy." Clemens von Pirquet
"America is one of the sickest and worst fed nations on earth." Doctor J. C. Nichols MD
"One grandmother is worth two MD's." Doctor Robert Mendelsohn
"Food is the fastest-acting and most powerful medicine you can take to change your life."
Doctor Mark Hyman MD
"Traditional cultures make provisions for the health of future generations by providing special nutrient-rich foods for parents-to-be, pregnant women and growing children; by proper spacing of children; and by teaching the principles of right diet to the young." Weston A. Price Foundation
"The epidemiological evidence is compelling and statistically conclusive we found that the prevalence of speech disorders, autism and heart arrest was a function of the mercury dose that the children received." Geier and Geier
"CONCLUSION: With limited sun exposure, an intake of 400 IU/day vitamin D(3) did not sustain circulating maternal 25(OH)D levels, and thus, supplied only extremely limited amounts of vitamin D to the nursing infant via breast milk. Infant levels achieved exclusively through maternal supplementation were equivalent to levels in infants who received oral vitamin D supplementation. Thus, a maternal intake of 6400 IU/day vitamin D elevated circulating 25(OH)D in both mother and nursing infant." Wagner et al, Note ladies if pregnant you MUST get your vitamin D levels up to at least 60 ng/ml IMO
"John O'Leary, Ph.D., a world-class researcher and molecular biologist from Ireland, using state of the art sequencing technology, showed how he had found measles virus in the gut of 96% of autistic children, compared to 6.6% of normal children. This virus did not come from the natural disease; it came from the measles vaccine."
"A 2001 Finnish study found that children given 2,000 IU of vitamin D daily in their first year of life cut their risk of getting juvenile diabetes by 80 per cent over their next 31 years."  Hyppopen et al Lancet 2001
"The results this June bowled over long-term medical researchers. Women who took 1000 IU of vitamin D3 daily had 60 per cent less breast, lung and colon cancer at the end of the trial than women who took the dummy pill. And when she dropped the cases discovered in the first year, assuming those cancers had been present but unnoticed when the trial began, the reduction in cancer in her vitamin D group was an astonishing 77 per cent." American Journal of Clinical Nutrition 2007
Note 7,000 IU of Vitamin D3, which is the minimum most women need, COULD virtually help ELIMINATE <10% Breast Cancer. So why do not women KNOW this? Tell them!
"In a group of 40 pregnant women 70 % were taking a daily multivitamin, 90% were drinking a daily glass of milk and eating fish at least once a week. At birth 76% of mothers and 81% of newborns were vitamin D deficient." Michael Holick PhD MD Vitamin D Expert
, Note deficient means next to nothing your fetus IMO needs three or four times deficient levels
"Low levels of vitamin D in infancy put the infant at risk for low bone density later in life." Michael Holick PhD MD Vitamin D Expert
"Why we should offer routine vitamin D supplementation in pregnancy and childhood to prevent multiple sclerosis." Chaundhuri Medical Hypotheses 2005
"Oral contraceptives deplete nutrients more than any other class of drugs," Ross Pelton, author of the new book, The Pill Problem, says. "The hormones in these drugs are very strong chemicals. I don't believe nature ever intended for women to put these hormones in their mouths or to have them introduced in their gastrointestinal tracts. Once there, they cause irritation that heavily interferes with the absorption of nutrients."
This book will do more to change your ideas on the ABSOLUTE importance of nutrition than any other IMO.
"Circling the world in the 1920s and 30s, Doctor Price and his wife found the same sinister pattern among "primitive" populations, whether isolated Irish fishermen, tribal Africans, Pacific Islanders, Eskimos, North and South American Indians or Australian Aborigines. Those groups that followed their traditional nature-based diets enjoyed good health and vigor and those that turned to the 'civilized' diet of processed, sugar-laden foods soon developed a variety of ills, including misshapen bones and teeth-and the situation worsened with each generation."
Doctor Robert M. Cathcart MD
"The diets of healthy primitive and non-industrialized peoples contain no refined or denatured foods such as refined sugar or corn syrup; white flour; canned foods; pasteurized, homogenized, skim or low-fat milk; refined or hydrogenated vegetable oils; protein powders; artificial vitamins or toxic additives and colorings." Weston A, Price Foundation
Researchers have captured a stunning explosion of zinc fireworks (sequence pictured) that occurs when a human egg meets sperm. This is the first time zinc sparks have been seen in a human egg and the size of the sparks is a direct measure of the quality of the egg and its ability to develop into an embryo Sparks fly when sperm meets egg

"Artificial food colors are now set to be removed from hundreds of products in the UK because the results of a study showing them to do as much damage to children's brains as lead in gasoline, resulting in a significant reduction in IQ." The Independent UK April 5 2008

"These new studies, and more than 20 well-documented previous ones, have prompted one researcher to say the link between cow's milk and juvenile diabetes is 'very solid'." Diabetes Care 1994;17(12)

"Researchers at Thailand's Chiang Mai University gave 70 nausea-plagued pregnant women ginger powder (1 gram a day) or a placebo. In the latter group, 28 percent reported relief but in the ginger group, the figure was 88 percent." Obstetrics and Gynecology

"Vitamins K and C used together have shown considerable clinical efficacy when used to treat nausea and vomiting occurring during pregnancy. In a study 91% of patients showed complete remission within 72 hours." Merkel

"A higher DHA level obtained prenatally from the mother was associated with longer gestation, better vision at six months and better mental and psychomotor development at 11 months." Jacobson et al

"Activated vitamin D increases nerve growth factor in the brain and the vitamin D receptor appears in a wide variety of brain tissue quite early in the development of the baby. Vitamin D deficiency should be examined in more detail as a candidate risk factor for neurodevelopment disorders." McGrath et al

"The scientific data stress the importance of the mother having enough vitamin D while she is pregnant and the child having enough vitamin D after birth for normal brain functioning." Doctor Kalueff NIMH

"Unlike other steroids, the body cannot create the activated vitamin D it needs directly from cholesterol; all of the body's activated vitamin D must come from simple vitamin D—either made in the skin or taken orally. Levels of activated vitamin D during brain development directly depend on the mother's vitamin D levels, which in turn, directly depend on the amount of vitamin D the mother makes in her skin or ingests orally."

Doctor John Cannell Vitamin D Council on the work of Vieth

"One of the primary roles of vitamin D is the regulation of calcium and phosphorus absorption and metabolism for bone health. This role is especially important during pregnancy and lactation because bones develop rapidly during this period." William B. Grant, PhD, and Michael F. Holick, PhD, MD

"Women with allergies who are breast feeding should take GLA and DHA & EPA or their precursors, flax as supplements."  Life Extension

"Adequate maternal iodine levels are critical for the brain development of the fetus." DeLong

"A study led by the U.S. EPA looks at mercury levels in women of childbearing age. According the study, one in ten women nationwide exceeded the mercury concentration levels that risk fetal health." Environmental Health News

"The load of infectious agents, including respiratory viruses encountered early in life is important for maturation of the immune system … thus avoiding diseases such as asthma. " Message and Johnson 2002, Note this directly implicates vaccination in asthma

"Human breast milk provides a lot of cholesterol. Not only that, mother's milk provides a specific enzyme to allow the baby's digestive tract to absorb almost 100 percent of that cholesterol, because the developing brain and eyes of an infant require large amounts of it. Children deprived of cholesterol in infancy may end up with poor eyesight and brain function. Manufacturers of infant formulas are aware of this fact, but following the anti-cholesterol dogma, they produce formulas with virtually no cholesterol in them." Doctor Natasha Campbell-McBride, MD

, Note ladies breasts, breasts and breasts

 "More research shows that polyunsaturated fatty acids (PUFAs), mainly the omega-3s found in fish, benefit maternal and infant health, immune function and total parenteral nutrition. One study showed that providing greater amounts of docosahexaenoic acid (DHA), an omega-3 PUFA, and arachidonic acid, an omega-6 PUFA, to preterm infants with very low birth weights resulted in improved cognition. This study provides additional evidence that the fatty acids an infant receives from the mother during pregnancy are critically important for brain development." Life Extension

"Children with both prenatal and postnatal cell phone exposure were 80 percent more likely to have emotional problems, conduct problems, hyperactivity, or problems with peers. Children who were only exposed prenatally had a higher likelihood of behavior problems compared to those who were only exposed postnatally, but not as high as those who were exposed at both times." Epidemiology July 2008, 19(4):523-529

"Long-chain polyunsaturated fatty acids, specifically arachidonic acid and docosahexaenoic acid (DHA), a major component of fish oil, are accumulated in the brain of the fetus and infant during the last trimester of pregnancy and the first year of life. DHA, in particular, has been found to be important for the development of the infant's central nervous system and visual acuity. Although infants can, to a limited extent, convert alpha-linolenic acid to eicosapentaenoic acid (EPA) and DHA, by far the majority of the infant's need for DHA must be met through mother's milk or fortified infant formula. Danish researchers suggest that the transfer of DHA from mother to infant via breast milk may significantly deplete the DHA status of the mother." Danish Research

"An adequate intake of DHA and EPA is particularly important during pregnancy and lactation. During this time the mother must supply all the baby's needs for DHA and EPA because it is unable to synthesize these essential fatty acids itself. DHA makes up 15 to 20% of the cerebral cortex and 30 to 60% of the retina so it is absolutely necessary for normal development of the fetus and baby. There is some evidence that an insufficient intake of omega-3 fatty acids may increase the risk of premature birth and an abnormally low birth weight. There is also emerging evidence that low levels of omega-3 acids are associated with hyperactivity in children. The constant drain on a mother's DHA reserves can easily lead to a deficiency and some researchers believe that preeclampsia (pregnancy-related high blood pressure) and postpartum depression could be linked to a DHA deficiency. Experts recommend that women get at least 500-600 mg of DHA every day during pregnancy and lactation. The easiest way to ensure this intake is to take a good fish oil supplement daily." Hans R. Larsen, MSc ChE

"The recommended daily intake of EPA plus DHA is about 650 mg rising to 1000 mg/day during pregnancy and lactation. Clinical trials have used anywhere from 1 g/day to 10 g/day, but little additional benefit has been observed at levels above 5 g/day of EPA and DHA combined. The benefits of therapeutic supplementation may become evident in a few weeks when blood parameters (triglycerides, fibrinogen) are involved, but may take 3 months or longer to materialize in degenerative diseases like atherosclerosis and rheumatoid arthritis." Hans R. Larsen, MSc ChE

"Vitamin K occurs naturally in one of Japan's staple foods Natto. The Samurais daily diet included Natto because they thought it increased strength and reaction time in battle. Ancient Japanese records point out that leading medical professionals of the day insisted that pregnant women take a daily allowance of Natto to ensure healthy offspring." Howard & Payne

"It is clear that feeding your baby artificial formula instead of breastfeeding triples their relative risk of death. A number of studies point to this fact. But now you have yet another brand new reason to be wary of feeding your baby manufactured, processed formula. And please, avoid the mistake of switching to a soy-based formula, as they are even worse, and should be avoided at all costs." Doctor Joseph Mercola MD

"Infant formula was designed to be a medical nutritional tool for babies who are unable to breastfeed. Formula does not fully meet the nutritional and immunity needs of infants, leaving their immune systems flailing. An infant's immune system has three aspects: her own immature, developing immune system; the small component of immunities that passes through the placenta during natural childbirth (and to a lesser degree with premature births and cesarean sections); and the most valuable, living portion that is passed on through mother's milk on an ongoing basis. Remove any of these components and you take away a vital support structure." The deadly influence of formula in America  By Doctor Linda Folden Palmer

"Iodine deficiency has adverse effects in all stages of development but is most damaging to the developing brain. In addition to regulating many aspects of growth and development, thyroid hormone is important for myelination of the central nervous system, which is most active before and shortly after birth (2, 6)." Linus Pauling Institute on Iodine

"Highly alarming studies and reviews in the last few years have documented the high accumulation of fluorides in the fetus in countries all over the world. Fluoride tends to transfer freely and immediately through the placenta, as has been shown in numerous publications. It is important to note that mother's milk passes on negligible amounts of fluoride in very high fluoride-intake areas, as if "nature" meant to protect the infant."       Andreas Schuld, Parents of Fluoride Poisoned Children (PFPC), Vancouver, B.C.

"In a study on children's intelligence in high iodine and fluorine regions, the percentage of low-intelligence children was 16.7% at dental fluorosis rates of 72.9%. This is comparable to fluorosis rates we see in North America, some of which are up to 80%." Health Effects of Ingested Fluoride

"If you want something that really works for asthma, you might want to look into vitamin D. One study has shown that poor diets and the lack of vitamin D among mothers were the two strongest determining factors in whether their children suffered from asthma even more than whether or not the mothers smoked." Asthma: Commonly used medication shows no clear benefits in children

"Pediatricians are as determined as obstetricians to weaken the family. They start by making the new mother feel absolutely unequal to the task of looking after the welfare of her baby....Modern Medicine attacks the family for the simple reason that if you want to convert someone to a different religion, you first go after the family ties. Don't listen to your mother or grandmother. Those are old wives tales. Listen to us. We are taught not to depend on anyone but the professionals - the doctors. With the family influence gone, what I call the vertical transmission of values from one generation to the next is gone too." Doctor Robert Mendelsohn, MD

"Obstetricians convince mothers that pregnancy is a serious medical condition, for which the mother herself is ill-equipped and inadequately prepared. Pediatricians continue this salesmanship of helplessness into the next phase: now infancy is a serious medical condition for which the mother herself is ill-equipped and inadequately prepared, etc. Creating mothers as obedient consumers, in the image and likeness of the corporate mentality - that's the game. How all this came about is beyond our present discussion but can be explored further in the chapter The Doors of Perception at www.thedoctorwithin.com and in Mendelsohn's 2 books How To Raise a Healthy Child In Spite of Your Doctor and Confessions of a Medical Heretic. No parent should try to raise a child without a thorough reading of Mendelsohn's 2 books." The Doctor Within

"Researchers surveyed 128 youths aged between 18 months and 17.5 years with type 1 diabetes. They found that 61% of the youths had insufficient levels of vitamin D, and 15% were clinically deficient."

"Women with vitamin D deficiency were 3.8 times more likely to undergo a first time cesarean section; whereas high vitamin D was protective against this procedure." Merewood et al

"The growing fetus is used by the mother's body as a toxic dump site for mercury and toxic metals all accumulate in the growing fetus, leading to over 600,000 children born with elevated mercury levels." Doctor Gary Gordon

"Doctor

Koren said an analysis done several years ago by his research group showed that mothers of children born with cardiovascular, brain or limb malformations reported taking less folic acid in multivitamins than mothers whose children had no birth defects. We do know that adequate amounts of folic acid do promote cell division and processes that lead to normal development. Research has shown that 40 per cent of pregnant women in Ontario do not take enough folic acid to be protective. " Toronto's Hospital for Sick Children, Note this one is simple, eat lots of raw fruit and vegetables and you will get folate galore

"Vitamin D has been linked to immune system and lung development in utero, and our epidemiologic studies show that higher vitamin D intake by pregnant mothers reduces asthma risk by as much as 40 percent in children 3 to 5 years old. Providing adequate vitamin D supplementation in pregnancy may lead to significant decreases in asthma incidence in young children." The Journal of Allergy and Clinical Immunology

Continuation of Pregnancy Protection Protocol (See Pregnancy Protection Protocol Continuation)