The Hep B Vaccine Deadly Scam
"For most children, the risk of a serious vaccine reaction may be 100 times greater than the risk of hepatitis B."
"A new FDA-approved Hepatitis B vaccine has been found to increase the risk of heart attacks by 700%, yet Facebook, Google, YouTube and Twitter ban any talk of vaccine dangers. There is a complete blackout of medical and scientific facts if they show vaccines to be anything less than magical, risk-less, medical utopian gifts to humanity." New FDA-approved Hepatitis B vaccine found to increase heart attack risk by 700%
"There is no question that HIV was introduced into the U.S. male homosexual population via the gay hepatitis B vaccine experiment that took place between 1978 and 1981."  Dr Alan Cantwell
"Over 2000 young white homosexual males in New York City were given Hepatitis B vaccine that contained HIV virus in 1978. This vaccine was given at New York City Blood Center. The Hepatitis B vaccine containing the HIV virus was also administered to homosexual males in San Francisco, Los Angeles, St.Louis, Houston and Chicago in 1978 and 1979. U.S. Public Health epidemiology studies have disclosed that these same 6 cities had the highest incidence of AIDS, Aids related Complex (ARC) and deaths rates from HIV, when compared to other U.S. cities." Doctor James Howenstine, MD
The above AIDS related quotes do not imply your child will get AIDS from the current Hep B "vaccination"? They do SHOW the Hep B "vaccine" has been used to start AIDS in the USA.
This is a tragedy beyond comprehension for me and I understand a lot of it. Have your kids at home if at all possible. Talking to many hospitals is like talking to hundreds of WALLS. They have their ORDERS from the CDC and other people who often HARM your newborns. It does not matter to your child and you if this harm is unintended; the CDC and many hospitals are FAILING both your child and you.
Demand NO Hep B "Vaccination". Demand to have the mother TESTED for Hep B before birth. Make the hospital SIGN a statement they will not give a Hep B "Vaccination" and that if they give one (by mistake?) they will be LIABLE to the full extent of ALL damages plus 3 million dollars for pain, suffering and STUPIDY.
You do NOT WANT this devils injection.
Note how much of this poor performance by the US is due to deaths caused by the HEPB?

Timmy's Sign (Southern CA)
<![if !vml]>
<![endif]>
Immunity infectious disease and "vaccination" by Doctor Ray Obomsawin PhD Note this is a SEMINAL video that explains with graphics in terms very easy to apprehend, just what a Deadly FRAUD "vaccination" is. Watch this first to get the big picture.
To See all the Diseases you are Opening Yourself up to by "Vaccinating" Please Go Here
To See The Main "Vaccination" Disease Mechanism
Please Go Here
"Hepatitis B vaccine has been shown in many peer-reviewed research papers to be associated with numerous infant deaths in the U.S. and Europe, multiple sclerosis and numerous chronic autoimmune disorders." Doctor Joseph Mercola MD
"Doctor Belgesi found the SCD and MSD hepatitis B vaccines contained a very highly carcinogenic enzyme. To this day they have not removed it." Doctor Leonard Horowitz DDM Note please watch this very INFORMATIVE video. It turns out there is a very good reason for them to force the toxic hep B on you and your children. You just will NOT like their reason.
"Prior to 1993, when the hepatitis B vaccine campaign first began, there were about 2,500 new cases of MS in France annually. Immediately after the campaign was launched, and especially after 1996, that number nearly doubled to 4,500 new MS cases per year. The most obvious cause, according to many health experts, was the vaccine." Hepatitis B vaccine linked to causing multiple sclerosis
Please no more vaccinations!
To view the NON-Science behind "vaccine science" Please go here
"Roughly 30-50% of the population has undiagnosed learning disabilities.[2] Almost 3 million children (ages 6 through 21) have some form of a learning disability and receive special education in school.[3] Since 1992, the percentage of students who spend 80% or more of their time in school in special education classes increased from 21% to 45%.[4] Specific learning disabilities have increased 22% over the past 25 years. In the past decade, the number of students ages 6-21 years identified with specific learning disabilities has increased by 38%.[5] In 2003, approximately 7.8% of U.S. children aged 4-17 years had ADHD diagnosed. Why?"

Note the 25 mcg of MERCURY and other garbage many kids are getting in their "flu shot" and other "vaccines" is IMO a good part of these problems
Good News for Children – Vaccination Opt-Outs on the Rise
"Pediatricians are the last people we should trust with our children. They play on parents' fears and on parental caring and love while they deliberately attack their young patients with known neurological poisons. Even though the 2004 Institute of Medicine report accepted that thimerosal, a mercury-based preservative in vaccines, can injure the nervous system, doctors continue to inject mercury into their young patients. In drinking water, mercury cannot exceed 2 parts per billion. A liquid with more than 200 parts per billion of mercury is considered hazardous waste. A mercury-containing flu shot vial has 25,000 parts per billion of mercury." The Terror of Pediatric Medicine.
To avoid both the "vaccines" and the "disease" please see The Secret of Wellness (Without Vaccines)
ASIA (autoimmune/inflammatory syndrome induced by adjuvants)
"A relatively new syndrome, ASIA (autoimmune/inflammatory syndrome induced by adjuvants) that was identified by scientists last year." "vaccination" is CAUSING autoimmune disease and inflammation
WOW is this a blockbuster or what?
The bedrock technique of "vaccination" is CAUSING autoimmune disease and inflammation.
Of course we have known this for decades. It sure is nice "vaccination" now has its own medically recognized NAMED PERNICIOUS syndrome! The name even directly identifies cause (vaccination) and pernicious effect (inflammation and autoimmune disease). Bravo Medicine!
"ALL vaccines are and have been causing ischemic (impaired blood flow thus low oxygen levels) damages - to all - creating a plethora of chronic illnesses, disease, and in some instances...death. The injury from vaccination is additive, each vaccination further injures." Doctor Andrew Moulden MD, PhD Note the chief cause of the ischemia is "vaccination" induced inflammation products in the capillaries.
A great discussion of the "Hep B Vaccine" Extreme Dangers from the mothers doing the Birthing Work
"Vaccines, are unavoidably unsafe." US Supreme Court Feb 201
1
.
Well not quite Guys, vaccines are quite safe for humans if they are NOT USED on humans. We avoid the horror of "vaccines" by NOT USING them.
Thanks for not getting me shot up with the Hep B
"Hepatitis B vaccine has been shown in many peer-reviewed research papers to be associated with numerous infant deaths in the U.S. and Europe, multiple sclerosis and numerous chronic autoimmune disorders." Doctor Joseph Mercola MD
"For most children, the risk of a serious vaccine reaction may be 100 times greater than the risk of hepatitis B."

Doctor Jane Orient MD, Association of American Physicians and Surgeons (AAPS)
"Hepatitis B vaccine has been shown in many peer reviewed research papers [including from Harvard University - detailed references at end] to be associated with numerous infant deaths in the USA and Europe, multiple sclerosis and numerous chronic auto-immune disorders. These latter include Guillain-Barre syndrome, lupus, rheumatism, blood disorders and chronic fatigue. The only potential claimed infant risk group is alleged to be babies born in the UK to mothers from countries with claimed-to-have high rates of infection. Around 2000 British born infants are already being vaccinated annually in the UK. At risk groups are intravenous "recreational" drug abusers and those who practice unsafe sex – which rules out 8 week old babies." US Government Concedes Hep B Vaccine Causes Systemic Lupus Erythematosus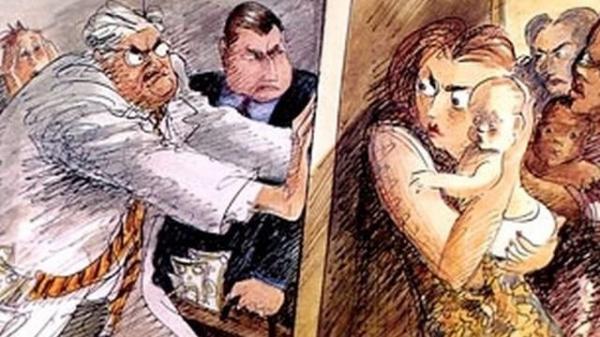 There has been a criminal judicial investigation in France into the adverse effects of this vaccine. France was the first country to introduce universal Hepatitis B vaccination and saw effects which included the first ever seen and harrowing cases of childhood multiple sclerosis in France."
"There are about 800,000 vaccine induced injuries each year ongoing TODAY in the US just from vaccines and vaccine contamination. Literally we have an ongoing Holocaust of vaccine induced injuries and the public is unaware of it. I am telling you this Holocaust is real." Doctor Leonard Horowitz DDM
Criminal Investigation into Hep B "vaccine"
"Vaccinating millions of children with the hepatitis B vaccine at birth can only be described as dangerous idiocy. The vast majority of infants, children and adolescents are in no danger from this infection- even the medical authorities agree on that. It is also known that the effectiveness of the vaccine in children last no more than two years and has little or no effectiveness in the immune suppressed child. The nefarious plan by these vaccine geniuses is to force vaccines into all babies, since they would have difficulty convincing adults, that is, the one at any danger, to get the vaccine." The Danger of Excessive Vaccination During Brain Development: The Case for a Link to Autism Spectrum Disorders Russell L. Blaylock, M.D.
"Findings suggest that U.S. male neonates vaccinated with hepatitis B vaccine had a 3-fold greater risk of Autism Spectrum Disorder. risk was greatest for non-white boys." Annals of Epidemiology, Carolyn Gallagher and Melody Goodman, Stony Brook University Medical Center
"Children who receive the entire 3-shot series of Hepatitis B Vaccine have a 9x higher rate of developmental disabilities than unvaccinated children." Fourteen Studies
"Epidemiological studies around the world show vaccines to be the cause of 79% of insulin type I diabetes in children under 10. The increased risk ranged from 9% with the diphtheria vaccine to 50% with the Hepatitis B vaccine. CDC data confirms these findings. The incidence of many other chronic immunological diseases, including asthma, allergies, and immune mediated cancers, has risen rapidly and may also be linked to immunization.56 "   Bart Classen, MD, PhD, developer of vaccine technologies, British Medical Journal 1999
"15,000 French citizens filed a lawsuit against the French government for understating the risks and overstating the benefits associated with the Hepatitis B vaccine. Hundreds of people were reported to have suffered from autoimmune and neurological disorders, including multiple sclerosis, following Hepatitis B vaccination. As a result, in October 1998, the French Minister of Health ended the mandatory Hepatitis B vaccination program for all school children." Hepatitis B Vaccine Dangers
"It was found that the likelihood of children requiring special education services was 900% greater for male children vaccinated with hepatitis B (containing thimerosal) as for unvaccinated males after adjustment for confounders. The learning disability diagnosis rate of 18 percent for First Nations boys (off reserve) is 5 ½ times greater than for non-First Nation boys in Canada." Gallagher C., and Goodman, M., Hepatitis B triple series vaccine and developmental disability in US children aged 1-9 years, Toxicological and Environmental Chemistry, Vol. 90, No. 5, September-October 2008, pp. 997-1008. Bougie, E., Statistics Canada, Aboriginal Peoples Survey 2006 - School Experiences of Off-Reserve First Nations Children Aged 6-14, January 2009, p. 9
"We also find a vaccine boycott in Ukraine. According to the Associated Press report, "Hundreds of thousands of fearful Ukrainians have refused vaccines for diseases such as diphtheria, mumps, polio, hepatitis B, tuberculosis, whooping cough, and others this year, according to official estimates. Authorities have canceled a U.N.-backed measles and rubella vaccination campaign funded by U.S. philanthropist Ted Turner and will have to collect and incinerate nearly nine million unused doses in coming months." The Ukrainians observed low flying planes spraying just before a plague outbreak
"There is good evidence milk thistle can help speed recovery in cases of hepatitis caused by a virus or alcohol. According to German research milk thistle helped heal hepatitis B and chronic viral hepatitis." Jean Carper
"Since babies are unlikely to contract hepatitis B and vaccine efficacy declines after a few years babies are being subjected to all the risks of the hepatitis B vaccine without any benefit." Another deadly worthless "vaccine"
"My sister-in-law was crippled with rheumatoid arthritis (RA) from a hepatitis B vaccine." Doctor Leonard G. Horowitz DMD
"Evidence ... suggests that hepatitis B vaccine is positively associated with adverse health outcomes in the general population of US children." 60 Things that Can Go Terribly Wrong with Hepatitis B Vaccination
"In New Zealand, the incidence of Type 1 diabetes in children rose by 61 % after an aggressive vaccine program against hepatitis B.. This same program has been started in the U.S.A. so we can now look forward to many cases of Type 1 diabetes in children. Similar rises in Type 1 diabetes have been seen in England, Italy, Sweden, and Denmark after immunization programs against Hepatitis B." Why You Should Avoid Taking Vaccines
"The CDC's Chief of Epidemiology admits that the frequency of serious reactions to hepatitis B vaccine is 10 times higher than other vaccines. Hepatitis B is transmitted sexually and by contaminated blood, so the incidence of this disease must be near zero in this age bracket. A vaccine expert, Dr. Philip Incao, states that "the conclusion is obvious that the risks[18] of hepatitis B vaccination far outweigh the benefits. Once a vaccine is mandated the vaccine manufacturer is no longer liable for adverse reactions." Why You Should Avoid Taking Vaccines
Lots of Good Info on Hep B Vaccine Extreme NEEDLESS Risks
Study: Hepatitis B Vaccine Damages The Liver
To date, 50+ negative health effects from the Hepatitis B vaccine have been documented in peer-reviewed, published literature.
"Hepatitis B was transmitted by yellow fever vaccine back in the 1940s. The hepatitis B actually came from the stabilizers of the albumin that was actually put in there to keep it stable." From official US transcripts of recent unreported meetings of US and UK vaccine safety scientists
"The top UK government expert present at this conference, Dr Phil Minor of the National Institute of Biological Standards and Control, added that the polio vaccine had originally been so polluted that it's doses contained as much monkey virus as poliovirus! I had no idea that so much monkey virus was in this vaccine given to hundreds of millions of children. Then there was another shock for me. I had been assured two years earlier at the SV40 Workshop that the polio vaccine was no longer contaminated with SV40 - and consequently I had so assured the UK public in our resulting Channel 4 television documentary. Now I learnt I had been misled and consequently had seriously misinformed the public. Scientists reported to this meeting that 'SV40 sequences' remained in the poliovirus seed used for the current polio vaccines." From official US transcripts of recent unreported meetings of US and UK vaccine safety scientists
Of all the pernicious "vaccine" deadly scams the Hep B scam may be the worst. There is absolutely no good medical reason to inject this poison into hours old babies and except for the ignorance of the parents of the PROVEN IMMENSE damage they are doing to their flesh and blood it would NOT be done. Parents please quit trusting these clowns; RESEARCH this poison!
The whole flawed theory of "vaccination" is that the vaccine induces antibodies in the person so poisoned. A new born has little to NO ability to produce lasting antibodies, much of his/her "immune system" consists of the immune protection ingested with his mother's breast milk. Breast feed YES; poisonous "vaccines" NO.
"A hundred years ago it was also a few powerful men who hijacked the world of medicine. These despicable souls were able to corrupt medical schools to the point of creating an army of criminals wearing white coats and calling themselves doctors. The worst of them call themselves pediatricians as they attack newborns and children with vaccines laced with poisons. They have been conditioned in medical school like Pavlov's dog and remain permanently blind to any of the evidence that points to their wrongness of action and being. That is why I wrote and have been giving away, as a free e-book," The Terror of Pediatric Medicine
By the time you reach the final page of "The Terror of Pediatric Medicine" you will understand its title and the fact that pediatric medicine is one of the worst things that ever happened to the world of babies and young children. What is happening in the world of pediatric medicine should send a deep chill through the heart of every parent. Our medical revolution begins with how we treat babies and will not end until medical reason banishes medical insanity and pharmaceutical terrorism from the world.
Your Baby is YOUR Baby
"So it's really not enough to just ask an expectant family to THINK about the Hep B vaccine, you need to give them the tools needed to navigate the system they are entering. It is a system of profits, efficiencies, legal consul and the "greater good". As new parents, they need to understand FROM DAY ONE that nobody has their child's well-being in mind more than they do. Nobody. Then they need a support system to help them navigate an unsupportive system. You can do that. Or just send them the link to this blog. I don't care if people think I'm wearing a tinfoil hat — especially if it gets expectant parents to think. Even just one!" The Birth of a Warrior
God gave your baby to YOU. God did not give YOUR baby to the HHS, CDC, the hospital or your pediatrician. In a few short hours you can research the hep B poison enough to KNOW it CANNOT go into your precious flesh and blood.
"NO VACCINES/NO SHOTS/NO ARGUMENTS/" Or I take my business and MY baby elsewhere.
How that "Hep B Needle" going into Your Baby is Part of a Larger Deadly Plot
"Doctor Belgesi found the SCD and MSD hepatitis B vaccines contained a very highly carcinogenic enzyme. To this day they have not removed it." Doctor Leonard Horowitz DDM Note please watch this very INFORMATIVE video. It turns out there is a very good reason for them to force the toxic hep B on you and your children. You just will NOT like their reason.
"Combine the two diseases feline leukemia and hepatitis and you have the immune deficiency." Doctor Donald Francis MD PhD CDC Medical Epidemiology and Virology Expert Note in light of this knowledge your hours old new baby getting a mandatory and deadly "Hepatitis B Vaccine" should send chills down your spine.
" Surely [Doctor Donald] Francis knew what Hilleman had clearly explained. He would have known that Gallo had taken monkey viruses, extracted their humanly benign DNA, infused their empty viral shells with cat leukemia/sarcoma RNA and then cultured the genetically engineered mutants in human White Blood Cells to allow them to cross the species barrier." LGH Note here Doctor Horowitz is describing how deadly animal viruses are extracted, "grafted" and adapted into human viruses. This is how "species jumping" is actually achieved with MOST deadly "animal viruses" that end up attacking humans.
"Vaccination" is a method to remove your baby's immune system from him. It begins at birth (now in the womb with the "vaccination" of fetuses). Please be aware and say NO!
Doctor Leonard G, Horowitz DMD has written an excellent book "Emerging Viruses AIDS and Ebola". If you want to understand the scientific basis for Ebola as well as a LOT else READ this book. I thought I knew a LOT about the reality of the AIDS bioweapon but I learned a LOT more, especially the all important POLITICAL background, reading this must have book.
Please Have Your Children at HOME if at all Possible
"I believe that the only way to be safe is to ensure that your baby is in your sight from birth onwards, while in the hospital. Here is an example of why, which appeared on AOA website some months ago: A mother who thought she had ensured that her baby would not receive Hep B vaccines, was furious when the baby was given the shot without her permission- at birth. Because of her reaction, the vaccine was not entered in her baby's history sheet. Some weeks later, she was visiting a doctor and the nurse noticed that the baby had not been given the Hep B- and gave a second one. This child was later diagnosed as autistic." The Birth of a Warrior, Note I wonder how many babies could stand to be injected with the toxic hep B "vaccine" twice without becoming autistic or ASD?
Please have your children at home if it is at all possible. Hospitals often will sneak the poisoned hep B needle into your poor new born even if they KNOW you do not wish it. A good midwife offers IMO much better birthing care at much LOWER risk. The Medical Industry has become IMO too dangerous to deal with on other than a traumatic basis.
Vaccination and Neurological Disease
"Circulating Immune Complexes are the antigen (bad guy) plus antibody (policeman) pairs that clog up the bloodstream, can plug the kidneys and even implant in tissue so that the body recognizes itself as being contaminated and attacks itself. That last one is the very definition of autoimmunity. They call it something different in medical texts to cover up the fact that they caused it with vaccines and don't want anyone to know about it."
If you have neurological disease or do not wish to have neurological disease Please don't consider the neurological disease producing practice of vaccination. There is little question that vaccination is a cause of many neurological diseases. Patrick Jordan explains how neurological diseases often follow the barbaric practice of "vaccination".
Please REJECT "Vaccination"
"As of March 2012, there was a total of 66,654 hepatitis B vaccine-related adverse events reported to the federal Vaccine Adverse Events Reporting System (VAERS), including reports of headache, irritability, extreme fatigue, brain inflammation, convulsions, rheumatoid arthritis, optic neuritis, multiple sclerosis, lupus, Guillain Barre Syndrome (GBS) and neuropathy. There have been more than 1,500 hepatitis B vaccine-related deaths reported, including deaths classified as sudden infant death syndrome (SIDS)."

Teens Susceptible to Hepatitis B Infection Despite Vaccination as Infants
Please investigate the practice of "vaccination" and IMO reject it as a deadly scam. IMO this is possibly the best gift you can give your immune system; or more importantly the immune systems of your children and grandchildren.
There is little question that vaccination is a cause of many allergies and autoimmune diseases.
Doctor Moulden, Doctor Blaylock, Patrick Jordan and others explain how ischemia, chronic inflammation, including brain inflammation, allergies and autoimmune disease often follow the barbaric practice of "vaccination" in a deadly cascade. After "vaccination" ischemia, chronic inflammation, including brain inflammation, leaky gut and allergy often are induced and are often followed in turn by delayed hypersensitivity, serum sickness and finally autoimmune disease. Of course autoimmune disease as bad as it is often not the WORST effect of "vaccination", there is autism and death.
Hepatitis A not Normally a Problem If You wash Hands
"Nicholas Rupp of the Salt Lake County Health Department said one of the main contributors to the outbreak among those experiencing homelessness is a lack of access to hygiene needs. "Places to use the restroom, places to wash their hands, and those things all contribute to the transmission of Hepatitis A," said Rupp. "Hepatitis A is not killed effectively by alcohol-based hand sanitizers," said Rupp. "We always say hand sanitizers no matter what you're trying to accomplish are not a substitute for hand washing. Hepatitis A is often spread because of fecal matter getting on someone's hand. If a person does not wash their hands properly with warm soapy water, they can spread the infection to surfaces they touch. With temperatures dropping outdoor hand washing stations are not an option in Salt Lake City, and although many people often use hand sanitizers, as Rupp noted, it's not always effective." Outbreak Alert: Hepatitis A Outbreak In Salt Lake City Expected To Last MONTHS
Hepatitis A not Normally a Problem If You wash Hands
and in other ways avoid ingesting fecal material.
Hepatitis B not Normally a Problem If You do not inject street drugs, avoid promiscuous sex, untested blood transfusions
and in other ways USE YOUR BRAIN.