Protein Protocol
"Protein foods raise HDL and increase carnitine levels." Crayhon
"Protein deprivation has been shown to decrease the liver content of several of the cytochrome P450 enzymes, the enzyme system the body calls upon to remove toxins. Mercury also blocks the P450 system. Trans fats also interfere with the P450 detoxification enzyme system, according to research carried out by Dr. Mary Enig, so these must also be eliminated from the diet."  Eric Davis, DDS
"Make certain you eat sufficient animal-based protein from organic or natural, free-range sources free of antibiotics, pesticides, and hormones each day. Organic eggs and cheese (cottage cheese, sour cream, etc. included) are great sources of protein. "Raw" milk and cream are excellent sources, too. Avoid all "low-fat" varieties. Eat a minimum of 8 oz. a day for a 150 lb. person. My research with clients around the world makes clear that animal-based protein should be your number one anticancer food choice after the EFA-containing oils." Doctor Brian Peskin PhD
"SOD is so important to survival that it is the fifth most prevalent protein in the human body." Doctor Anthony Cichoke
"While a majority of the previously published work has shown this benefit with concurrent energy restriction or routine exercise, this study is unique in demonstrating the gradual benefit of added whey protein without these other lifestyle changes. Certainly, to elicit significant changes in body weight over the short term requires exercise or diet adjustments. However, this study provides early evidence that whey protein may play a significant role in weight management over the long term," Whey Protein Shows Body Weight Benefits Note this study implies ALL high quality complete protein MAY also have this effect.
"Of particular importance to the health of the brain and nervous system are the sulphur-containing amino acids-methionine, cysteine and cystine found most plentifully in eggs and meat. Some individuals cannot manufacture amino acids considered "nonessential" such as taurine and carnitine, but must obtain them form dietary sources. namely red meat." Sally Fallon
A Compete Protein provides all the amino acids (See Amino Acid Protocol) your body requires to create, maintain and repair the 50,000 or so proteins you require to live. Children require more protein per pound of body weight than do adults to support their rapid growth. Excessive intake of protein over many years may lead to kidney (See Kidney Protection Protocol) problems and/or osteoporosis (See Osteoporosis Protection Protocol). IMO it's important to get plenty of your protein from animal sources, eggs are a great source.
Get about 20% of your calories as Protein
IMO
"Among modern hunter-gatherers, the percentage of total protein and fat have been found to vary from 36% to 97% with total carbohydrates varying from 3% to 64% and the people at both extremes are equally disease-free." Doctor Jonathan V. Wright MD, Note this is a mind blowing fact first take some time to digest its implications, then stop worrying about your fat consumption. Just make sure ALL the fat you consume is GOOD fat.

"In a major study when Subjects ate 41% of their calories as fat most of it olive oil their LDL dropped more than when they ate 20% of their calories as fat. HDL rose on the olive oil and dropped on the low fat diet." Jean Carper

"Diverse cultures tend to find a source of fat and/or carbohydrate that keeps their protein intake roughly between 10 and 20%. I think its fine to eat plenty of protein, and there's no need to deliberately restrict it, because your tastes will tell you if you're eating too much. However, "high-protein diet" as a euphemism for low-carbohydrate diet is a misnomer. Low-carbohydrate diets are, and have always been, high-fat diets." Blogger Stephan

"When people lowered their saturated fat intake from 15% to 6% of calories their Lipoprotein(a) rose by 15%." Henry Ginsberg M.D. Columbia University, Note a raising Lp(a) indicates CVD is more likely

"Furthermore, the body can survive very well without simple refined carbohydrate provided that adequate protein and fat is on board to provide the calories required for metabolic functions. Our body is designed to run on fats as a fuel and not sugar. In fact, excess sugar is stored as fat because fat is the preferred source of fuel. The body can store a lot of fat but only limited amount of sugar." Doctor Michael Lam MD

"When protein is lacking in the diet, there is a tendency for the blood and tissues to become either too acid or too alkaline, depending on the acidity or the alkalinity of the foods we eat. Improper acid-alkaline balance is often a problem among vegetarians. Just as animal fats are our only sources of vitamins A and D and other bodybuilding factors. so also animal protein is our only source of complete protein." Sally Fallon

"Protein cannot be adequately utilized without dietary fats. That is why protein and fats occur together in eggs, milk, fish and meats. A high protein low fat diet can cause many problems including too rapid growth and depletion of vitamin A and D reserves." Sally Fallon

Protein, Fat and Carbs

"You can read Dr. Jaminet's response to Dr. Rosedale here, and his earlier statement to which Dr Rosedale was replying here. It is really unusual to have two such prominent experts carry on a civil and erudite discussion on such an important topic [Carbs]. If you have the time and interest I would strongly recommend that you read their detailed debate." The great Carb debate

"Eskimos (Inuit) would eat almost a pure animal food diet… People in the tropics would tend to eat more carbohydrates. But typically, the amount of carbohydrates eaten would… be about 15 percent to 20 percent. We know that from hunter-gatherer tribes that were contacted in the 1800s. We have some good data from that period on what hunter-gatherer diets looked like."

Doctor Paul Jamine, Note the Inuit will often eat the stomach contents of the animals they harvest, no matter how repugnant to the white man this seemed, can you see why? Man cannot live well on a PURE animal diet.

The white men living with the Inuit who refused to eat these stomach contents often grew sick and if they still refused, died.

What a health lesson this is for us. Preconceptions and myth can kill. HHS has loaded our brains with preconceptions and myth. Is HHS killing us? Your call.

A good rule of thumb is to get about 15% - 20% of your calories as Protein. Most healthy societies have settled on about this basic amount. Naturally children, elders, athletes and others may require more

but too much or too little protein can both be problems. Incidentally this answers a basic diet question about the split between protein, fat and carbs. You absolutely need the protein at about 20% of calories. You absolutely need fat at about 30% to 75% of calories. We NEED absolutely very few carbs, as few as 5% of calories; but healthy low glycemic index complex carbs can comprise as much as 50% of a healthy diet.

A Little Salt with Animal Protein can Spare Your Bones

Salt all animal protein sources, as sodium will help neutralize the acids produced by the digestion of meat and animal products. This keeps calcium from being drawn from your bones to neutralize the acid. Plant protein sources do not seem to have this acid problem. Protein causes your body to produce HGH (See HGH Protocol). Try and get some complete protein every day; many trials show this helps maintain a lean body mass. Proteins require a strong digestive (See Digestion Protection Protocol) process to digest and thus you must assure you have one or you may be lacking in Amino Acids which will quickly cause you important problems. Bromelain (See Bromelain Protocol) and papaya (See Papaya Protocol) are good digestive agents for protein. I usually take digestive (See Digestive Enzymes Protocol) enzymes when eating a good portion of protein.

Believe it or not Green Leafy Vegetables (See Green Leafy Vegetables Protocol) and other vegetables can be excellent Protein sources.

Some good sources of Complete Protein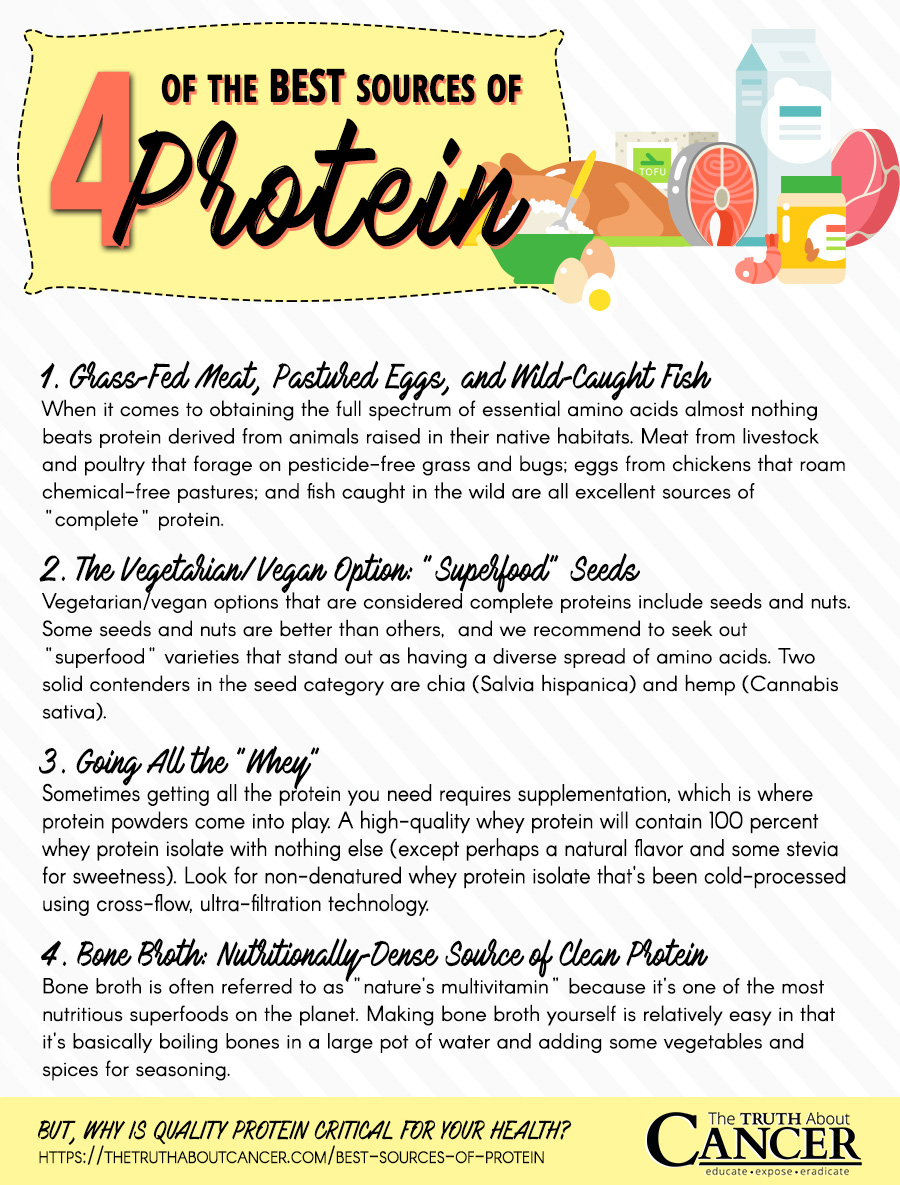 "Daily supplementation with 15 grams of essential amino acids—the building blocks of protein—was found to increase muscle synthesis and lean body mass in older women within three months, "possibly offsetting the debilitating effects of sarcopenia. Additionally, research has linked a diet low in calories, but rich in high-quality vegetable protein, to reduced cardiovascular-risk profiles in adults of all ages, including LDL-cholesterol and blood pressure." Pea Protein Note a good way for older adults to go is my daily pro cardio drink
"Studies show that older adults may need anywhere from 11% to 250% more protein than adults in general. Old or young, protein is essential as a supply of amino acids. These proteins are transformed into functional proteins that take care of almost every physiologic need from cell structure to waste clearance. Sufficient amounts of protein are needed to inhibit sarcopenia—the age-related muscle loss that boosts the risk of frailty, falls, and disability. But whey, egg, and soy protein supplements may be off-limits for those who are allergic to dairy, egg, or soy or are lactose intolerant, vegetarian, or vegan." Pea Protein