Vaccination Legal Challenges
There are many ways to lower the RISK of Autism. If your child is not injured by "VACCINATION" he will probably not GET Autism. Period.
Dr. Paul Thomas Targeted By Medical Board & Media After Landmark Vaccine Study — Interview
Note: Doctor Paul has some intelligent analysis of the extreme dangers of the mRNA "experimental vaccines"
Robert Kennedy Gives a Heroic Defense Against Forced Vaccination
The
California Political Establishment has completely sold out to the NWO Disease Propagation lobby. Bobby is having none of it. A LOT of California Mothers are backing Bobby and the Horrible Truth about "vaccination". This disease propagation lobby is coming to YOUR STATE.
Forced "vaccination" is your future UNLESS the Mothers of America unite for the truth about "vaccination".
Bobby, a lawyer, has several LEGAL initiatives planned. Please get behind this discovery of EVIL process. Pray for this good man many, in his position have been removed from the fight by these same evil forces.
Sweden Bans Mandatory Vaccinations Over 'Serious Heath Concerns'
"NHF Sweden sent a letter to the Committee and explained that it would violate our Constitution if we introduced compulsory vaccinations, or mandatory vaccinations as was submitted in Arkelsten's motion… there's a massive resistance to all forms of coercion with regard to vaccinations." Sweden Bans Mandatory Vaccinations Over 'Serious Heath Concerns
"A new FDA-approved Hepatitis B vaccine has been found to increase the risk of heart attacks by 700%, yet Facebook, Google, YouTube and Twitter ban any talk of vaccine dangers. There is a complete blackout of medical and scientific facts if they show vaccines to be anything less than magical, risk-less, medical utopian gifts to humanity." New FDA-approved Hepatitis B vaccine found to increase heart attack risk by 700%
"No entity under the sun has the right or lawful authority to arrogate [claim, appropriate or misappropriate] power unto itself to harm or injure, sicken or infect, paralyze or kill the people of this nation," says Deal, warning that such behavior is a direct breach of the social contract the federal government has with citizens. "Not only is such conduct by the state a serious breach of the social contract, it represents a profound violation of the public trust. Vaccination programs therefore break the inviolable bond between the citizenry and the government." You can read Deal's full report and plan for dealing with the forced vaccination problem here." Propaganda Junk Science
To See all the Diseases you are Opening Yourself up to by "Vaccinating" Please Go Here
To See The Main "Vaccination" Disease Mechanism
Please Go Here
CDC Admits Thimerosal CAUSES AUTISM
"In 2016 over 100 Freedom of Records Act (FOIA) requests have finally forced the US Centers for Disease Control and Prevention (CDC) to admit a widely-used vaccine preservative is the equivalent of a neurological Armageddon. The deceitful agency finally had to reveal what they have known for years, that thimerosal, which was banned in 1999, but still used in over 60 vaccines, causes autism." Foolish to Trust the CDC on Vaccines
"Kids who received 100 micrograms of thimerosal were over ten times more likely to have autism than the kids who received no mercury-containing vaccines."

Doctor Mark Geier
Note there are 50 - 100 mcg of thimerosal in 85% of all "flu shots"
You may think mercury has been removed from "vaccines" but it has NOT. For example your lovely "flu shot" usually contains 100 billion to 200 billion atoms (25 mcg - 50 mcg) of mercury. EVERY "vaccination" contains mercury.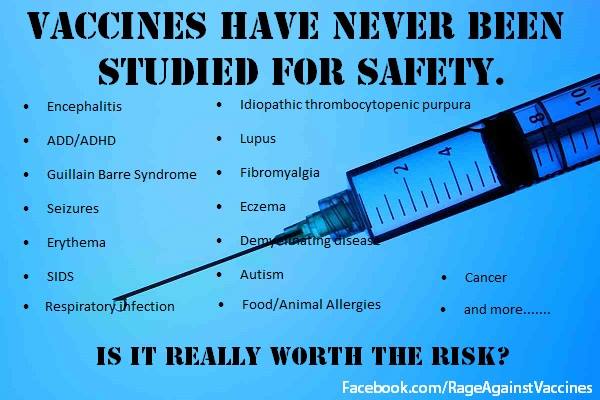 Note, "Vaccination" is strongly linked to all these health problems
The Vaccine Culture War in
America
: Are You Ready?
SIDS is CAUSED by "Vaccination"
90% of deaths occurred within five days of vaccination Note if "vaccination" was not causing these deaths the SIDS distribution would be CONSTANT across time and not clustered AFTER the "vaccination". IMO many if not MOST "vaccinations" if honestly investigated will show a similar asymmetric DEATH cluster AFTER "vaccination". This data was found HIDDEN in drug testing files.
"A study undertaken in 1979 at the University of California, Los Angeles, under the sponsorship of the Food and Drug Administration, and which has been confirmed by other studies, indicates that in the U.S.A. approximately 1,000 infants die annually as a direct result of DPT vaccinations, and these are classified as SIDS (Sudden Infant Death Syndrome) deaths. These represent about 10 to 15% of the total number of SIDS deaths occurring annually in the U.S.A. (between 8,000 and 10,000 depending on which statistics are used)." Leon Chaitow, Vaccination and Immunization, CW Daniel Company Limited, Saffron Walden, Essex, England, 1987.
"Dr. Geier points out that all flu vaccines are illegal. All vaccines must pass two double blind tests for safety and effectiveness. Because a new vaccine is developed each year in advance of the flu season, and because each vaccine assumes a prediction of which strains of flu will be present, there is no time to two double blind studies, which would take several years." VACCINES: AN ATTORNEY'S VIEWPOINT
Doctor FRED BAUGHMAN, MD : "IT IS TIME FOR THE ADHD FRAUD, THE BIGGEST HEALTH CARE FRAUD IN HISTORY, TO BE BROUGHT TO AN END."
Vaccine Resistance Movement Face book Page
If you visit the sites referenced on in this protocol you can devise a legal strategy to avoid "vaccination".