Antibiotics Protocol includes Antibacterial Protocol
Do not take Antibiotics unless your life is threatened. Natural antibiotics are going to HAVE to mostly replace Drug Antibiotics. We have NO Choice,
"There is no "bad" natural chemical or cholesterol in your body if God puts it there. Quite possibly, if you have high LDL, your body might know that it's under bacterial stress. If so, it could be making more LDL in its wisdom to thwart invaders." Doctor Robert Rowen MD
"I raised my children on a natural food diet. They have NEVER had a single dose of an antibiotic. Do kids get sick, sure. Do they need a drug to get better, no. Do we have a pediatrician, of course. Do we go, did not have to." Doctor Andrew Saul MD Note NOT visiting a "pediatrician" has NUMEROUS benefits and almost NO drawbacks; just the opposite of "vaccination". "Vaccination" IMO is the greatest driver of antibiotic drug use in children. As always there are a few good pediatricians, damn few IMO.
"Since eugenol [in cloves] had already proven effective at stopping the growth of so many other types of nasty disease-causing bacteria- including E. coli (food poisoning), Staphylococcus (strap infections), Proteus (bladder infections), Klebsiella (respiratory problems) Enterobacter (hospital acquired infections) and Pseudomonas (unitary tract infections) - they decided to test it on H. pylori too. And in a laboratory study they found that eugenol [in cloves] stopped the growth of 30 strains of H. pylori - and did so 25% faster than amoxicillin, a common antibiotic. And they found that the bacteria didn't develop any resistance to eugenol [in cloves] ."
Natural Antibiotics: See end of this Protocol
"The great enemy of the truth is very often not the lie—
deliberate, contrived and dishonest, but the myth, persistent,
persuasive, and unrealistic. Belief in myths allows the
comfort of opinion without the discomfort of thought."
<![if !supportLists]> <![endif]> John Fitzgerald Kennedy (1917–1963)
"Let your food be your medicine, and your medicine be your food" Hippocrates
"The kitchen is more important than the pharmacy." Clemens von Pirquet
"America is one of the sickest and worst fed nations on earth." Doctor J. C. Nichols MD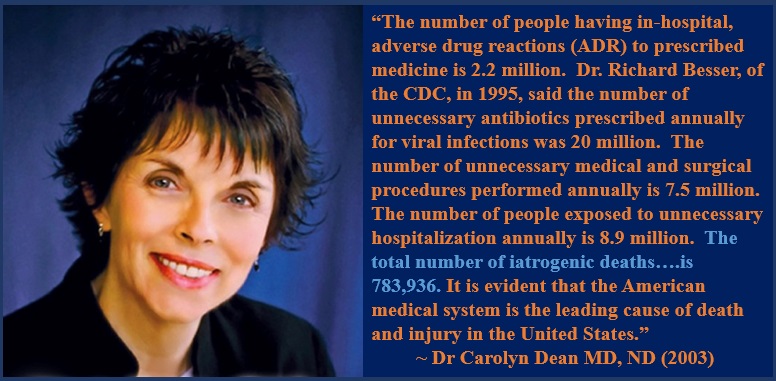 "One grandmother is worth two MD's." Doctor Robert Mendelsohn
"Antibiotics are not our most powerful weapon against infectious disease. Hydrogen peroxide is. Your own white blood cells produce hydrogen peroxide. Yes they do, lots of it. H2O2 is our body's first and best defense against any infection. H2O2 kills bacteria, viruses, yeast, parasites — all the bad guys. The hydrogen peroxide molecule (H202) is basically water (H20) with an extra oxygen atom attached. When that oxygen gets released against germs, it "oxidizes" them. Poof, they're goners." Doctor William Douglass MD
"There are several ways in which bacteria have become resistant to antibiotics. When some bacterium recognizes an antibiotic the efflux pump simply pumps the antibiotic out of its cells. Some bacteria manufacture chemicals which degrade or chemically alter the antibiotic. In the US alone 14,000 people die each year from antibiotic-resistant bacteria picked up in the hospital." Life Extension
"Often doctors prescribe antibiotics for acute bronchitis because patients believe that only antibiotics can cure acute bronchitis; a condition in which antibiotics will not alter the course and are NEVER warranted. While antibiotics definitely have their place in the treatment of bacterial pneumonia they offer no benefit in cases of bronchitis or viral pneumonia. " Murray & Pizzorno
"Over 20 million unnecessary antibiotic prescriptions are written annually for viral infections."   Doctor Gary Null PhD
"(Drug)Antibiotics often cause diarrhea by altering the type of bacterial growth in the colon or by promoting the overgrowth of candida albicans. When antibiotic use is absolutely necessary it is important to concurrently supplement with probiotics. This will reduce the reductions of friendly bacteria and/or infections with antibiotic-resistant bacteria." Murray & Pizzorno
"Fevers are generally good. The brain raises the temperature of the body for a reason - something has triggered an inflammation and the body is trying to make an inhospitable environment for the irritant and throw it off. Basic detox. Tylenol, ice baths, and drugs may interfere with the body's most instinctive first line of defense. Think how arrogant that is. Who knows better than your body when to turn up the thermostat? Now in that rare one in 5 million event where there's a danger of meningitis or the patient is delirious and remains in a very high fever for days on end - that may be the time to consider drugs. Like I said, life-threatening situations. But how often does that happen? When do we take antibiotics? Usually the first sign of a cold or fever. When we're young, they work. But most people use up all their ammunition early. Remember - average is 17 runs of antibiotics by the age of nine. Then when something serious happens, drugs fail. Not only are the bacteria now resistant; the body has never been given the opportunity to develop its own defenses, its own immune system. The result is just what the market growth drug industry wanted: a nation of people who are always sick, get colds a few times a year, have frequent headaches and digestive disorders and every few years get a "major" illness. Oh yes, and two thirds of whom will die either of heart disease or cancer." The Doctor Within
"It is astounding to learn that the average child of nine in this country has already had 17 runs of antibiotics in his lifetime! Why is that a problem? The word is attenuation. Attenuation means that the bacteria weren't killed; only half-killed. There are two reasons why this may have happened: 1) Most people stop taking the antibiotic as soon as they feel better. Isn't that true? They think they're fine, but what they just did was allow some bacteria to survive in a mutated form which is now resistant to the antibiotic they just took. Which means that next time the drug won't work.  2) The bacteria mutated and survived the full course of antibiotics." The Doctor Within, Note there is NO way for the human race to win this game
"There are many descriptions of bacterial agents that can suppress different phases of specific immunity. Bacterial agents are frequently employed as tools to modulate the immune system in experimental models or clinical therapy. Little attention has been given to the implications of such immunoregulating properties for infectious processes or for the natural role of the microbial flora in the normal regulation of the immune system." Bacterial Interference with Immunospecific Defenses Note this page is part of a series on pathogen characteristics. Highly recommended if you want to "know the enemy"
Learning About Health
A Comparison of Internet Use and Health Status of Populations That Experience Health Disparities

,Note learning about health shows a STRONG Reduction in Risk

"Helicobacter pylori was rapidly inactivated by medium-chain monoglycerides and lauric acid and there appeared to be very little development of resistance of the organism to the bactericidal effects of these natural antimicrobials."  Petschow et al 1996, Note Coconut Oil

"The possibility that lactoferrin limits the autodestructive inflammatory response presents a new alternative for the future management of systematic inflammation." Kruzel et al

"90% of upper respiratory infections, including children's ear infections, are viral, and antibiotics don't treat viral infection. More than 40% of about 50 million prescriptions for antibiotics each year in physicians' offices were inappropriate." CDC

"Vitamin C is known to contribute to the development of antibodies and the neutralization of toxins in the building of natural immunity to infectious diseases. There is a very potent chemotherapeutic action of ascorbic acid when given in massive repeated doses, 500 to 1,000 mg (hourly), preferably intravenously or intramuscularly. When thus administered the effect in acute infectious processes is favorably comparable to that of the sulfonamides or the mycelial antibiotics, but with the great advantage of complete freedom from toxic or allergic reactions."  Doctor William J. McCormick 1955

"Vitamin D is a potent antibiotic. Instead of directly killing bacteria and viruses, the steroid hormone under question increases the body's production of a remarkable class of proteins, called antimicrobial peptides. The 200 known antimicrobial peptides directly and rapidly destroy the cell walls of bacteria, fungi, and viruses, including the influenza virus, and play a key role in keeping the lungs free of infection."

 Doctor John Cannell Vitamin D Council
"Herbal medicine aims at the basic cause of the problem not just superficial symptoms. A physician may give an antibiotic drug that clears up an infection but it does not stop the next one because your immune system is not working properly. Someone using herbs tries to correct the weakened immune system so the infection does not come back." Kerry Bone, founder MediHerb Australia
"In neither case are the bacteria causing illness. They are trying to prevent illness by breaking down the dying tissue. Whether it's rotting yogurt in a blocked colon, a dead coyote in the forest, or infected liver cells in the body of an alcoholic, bacteria are just doing what they do best: cleaning up. When the bacteria are "diagnosed" as the cause of the illness, rather than a sign of the illness, the medical approach is to try and kill them. But that's like killing the garbage men. The garbage remains. Understanding such a simple concept is pivotal in arriving at a holistic outlook toward health."
The Doctor Within
"LEAVE THOSE KIDS ALONE It starts almost at birth - you know, the ear infection thing. Otitis media, they call it. At the slightest redness around the ear, or the slightest little sniffle, any good mother will drag her baby into any good doctor for a checkup, right? Prescription? Antibiotics. Yes m'am, we'll kill those bad bugs before they ever get a chance to get started. Antibiotics are for what? That's right - bacteria. But according to the NEJM, 28 Jan 99, at least 41% of otitis media is caused by virus. But they get antibiotics anyway, as often as not because the parents insist on getting them. And that's for the cases which actually are otitis media, not even counting all the rashes, allergies, or little traumas which are misdiagnosed as otitis media. Drug of choice: amoxicillin, even though doctors have known since 1991 that kids who take amoxicillin for simple otitis media have a 2-6 times greater chance of recurring infection than kids who don't. (JAMA, 18 Dec 1991)" The Doctor Within
"Into this whole mess, enter the dentist. It is an odd fact that as much as 30% of dental patients are given a single 'bombing' dose of amoxicillin before any routine dental work. Why? Politics and money. The big scare is - we have the American Heart Association's proclamation that there is a "risk" of a dental patient picking up bacteria that may cause a rare heart disease called Subacute Bacterial Endocarditis when the gums are made to bleed during the dental procedures. In reality, catching the disease following dental work is not quite that simple." The Doctor Within
"So in summary with Garlic's Allicin you have a broad spectrum of activity against bacteria, virus, and protozoa. No resistance can be built up so it is an absolutely safe product to use. It has no effect on mammalian cells, and no effect on the lactic acid bacteria." Raw garlic Anti-Microbial Supreme
"A short-term use of high-dose Vitamin A -- 400,000 units daily for up to one week for average 70kg adults can be useful as an anti-infective measure." Doctor Garry Gordon
"Kyolic liquid is the perfect form of liquid natural antibiotics. I have used Kyolic in doses of up to 2 full bottles a day successfully in treating antibiotic resistant pneumonia. Kyolic always helps manage any form of infection. If Kyolic is also applied directly inside the ear, it helps most ear infections. The dosage recommendation is to take it diluted 50% warm water every 2 hours. Use at least 1-2 tsp 4 times a day in helping most infection." Doctor Garry Gordon
"The most cost effective of all the nutrients or herbs that you can take to enhance the immune system is high doses of vitamin C and garlic. Plan to dramatically increase the dose when you feel particularly stressed, or fear you are coming down with something."
Doctor Garry Gordon
"Iodine has anti-bacterial, anti-parasitic, anti-viral, and anti-cancer properties. Without it, you are at risk for cancer of the breast, prostate, ovaries, thyroid, and uterus." Doctor Al Sears
MD
"Fleming knew, what Bechamp knew, and what Pasteur himself finally admitted: that bugs don't cause disease and that drugs don't cure them. Antibiotics were and are for one thing only: life-threatening infections. Not minor colds. Not minor ear infections. Children need to be sick sometimes. That's how they build their own immune defenses. It's OK to get a cold once in awhile; it gives the body a chance to use its powers of defense, like fever, inflammation, coughing, and swelling. These symptoms are not the illness. They are just signs that the body is successfully attempting to restore its own balance. To attack the symptoms is to fight the body itself and make it that much more difficult to return to a state of normal health. A body allowed to heal itself will be far more resilient, more RESISTANT in the future. That's the kind of resistance we want." The Doctor Within
"Compared with Echinacea, Golden Seal, Astragalus, and Siberian Ginseng, Cat's Claw is far superior in its anti-bacterial and immune building properties. Cat's Claw enhances the immune system in a general way. The unique alkaloids found in Cat's Claw enables white blood cells to swallow and digest harmful organisms in the body. The most immunologically active alkaloid is called isoteropodine or isomer A. Cat's Claw has been proven to increase the production of leukocytes and T4 lymphocytes, thus blocking the advances of many viral diseases."
Doctor Michael Lam MD
"A group of scientists from UCLA published a remarkable paper in the prestigious journal, Nature. The UCLA group confirmed two other recent studies, showing that a naturally occurring steroid hormone - a hormone most of us take for granted - was, in effect, a potent antibiotic. Instead of directly killing bacteria and viruses, the steroid hormone under question increases the body's production of a remarkable class of proteins, called antimicrobial peptides. The 200 known antimicrobial peptides directly and rapidly destroy the cell walls of bacteria, fungi, and viruses, including the influenza virus, and play a key role in keeping the lungs free of infection. The steroid hormone that showed these remarkable antibiotic properties was plain old vitamin D." Doctor John Cannell MD
"Ginger is a phytochemical rich nutrient. In a recent study, patients who took ginger capsules (3 grams daily) had significant reductions in LDL and triglycerides. And they had a rise in "good" HDL cholesterol compared to placebo. Ginger happens to have extraordinary antibacterial properties. This is clear evidence that the remedies God provides help your body correct itself with balance and strength." Doctor Robert Rowen MD
"I raised my children on a natural food diet. They have NEVER had a single dose of an antibiotic. Do kids get sick, sure. Do they need a drug to get better, no. Do we have a pediatrician, of course. Do we go, did not have to." Doctor Andrew Saul MD
"Unless you're a surgeon, believing you have to sterilize yourself is a mistake. You're isolating yourself from the natural world we were born to thrive in. Our natural world is not sterile. We are meant to be exposed to bacteria." Doctor Al Sears MD
. Note forget all the antibiotic soaps, washes and wipes Doctor Al suggests plain old soap and water
"I've warned against chemical-laden soaps and especially antibacterial soaps ever since they arrived. The best defense against infection is a powerful immune system. Chemicals destroy your immune system. If you need topical antibacterial support, consider the wonders of essential oils, such as oregano and thyme. Please don't use chlorinated hydrocarbons like triclosan. Get rid of toothpaste containing antibacterials. Why would any regulator allow such a compound to enter your mouth?." Doctor Robert Rowen MD
"About 10 years ago, people began trying to get rid of all bacteria, using antibacterial soap, antibacterial rinse, antibacterial everything, but it's not a good idea. We know today that probiotics are very important for both intestinal and oral health. One of the reasons I don't recommend mouthwashes is because we don't want to get rid of all the bacteria; we want to limit their number with good oral hygiene. That's one of the reasons I love the Waterpik Water Flosser®. It uses just water and it does a great job in just 60 seconds. The other way to nourish good bacteria is to give them good food. Processed foods will grow bad bugs. Wholesome foods, such as fruits, vegetables, and [lean] protein will promote the growth of healthy bacteria."
Doctor Sanda Moldovan Discusses the Overlooked Importance of Oral Health
"For hundreds of thousands of years, human cells and bacterial cells have peacefully coexisted in a symbiotic state that contributed to the health and equilibrium of the human body. But the extensive overuse of antibiotics since their discovery and subsequent production in the last century has spurred the rise of "superbugs," which are resistant to several kinds of antibiotics. Superbugs infect over 2 million people in the US every year, and kill about 23,000, according to the Centers for Disease Control and Prevention (CDC). Microbiologist Dr. Martin J. Blaser, Director of the Human Microbiome Program at NYU and author of Missing Microbes: How the Overuse of Antibiotics Is Fueling Our Modern Plagues, believes the overuse of antibiotics actually goes even further, and contributes to a host of modern maladies, including diabetes, obesity, asthma, allergies, and certain kinds of cancers. In this exclusive interview with Life Extension®, Dr. Blaser discusses antibiotic overuse and what we can do to prevent and solve even more catastrophic health problems in the near future—which he refers to as an "antibiotic winter"—as well as ways to stop the destruction and decline of beneficial bacteria." How The Overuse Of Antibiotics Is Fueling Our Modern Plague
Superbugs
"Unfortunately, we played a trick on the natural world by seizing control of these antibiotic chemicals, making them more perfect in a way that has changed the whole microbial constitution of the developing countries. We have organisms now proliferating that never existed before in nature. We have selected them. We have organisms that probably caused a tenth of a percent of human diseases in the past that now cause twenty, thirty percent of the disease that we're seeing. We have changed the whole face of the earth by the use of antibiotics." Mark Lappe
"The era of antibiotics is coming to a close. In just a couple of generations, what once appeared to be miracle medicines have been beaten into ineffectiveness by the bacteria they were designed to knock out." Doctor Joseph Mercola MD, Note NATURAL anti-biotics NEVER lose effectiveness
"We are finding that the benefit of reduced infections in humans and animals is not worth the cost of bacterial resistance that comes from the increased exposure of the antibiotics." Doctor Lon Jones D.O.
"Antibiotic-resistant disease is a major threat to public health, and the primary cause for this man-made epidemic is the widespread misuse of antibiotics—both in medicine and agriculture. ... Natural compounds with antibiotic/antiviral activity include oil of oregano, garlic, and Echinacea, which you can try before resorting to drugs"
How to Protect Yourself from Medical and Agricultural Antibiotics
"Centers for Disease Control and Prevention director Tom Frieden made headlines last year when he proclaimed that the United States would "soon be in a post-antibiotic era," meaning we'd be plagued by everyday infections that our drugs could no longer handle. It appears that age is already on our doorstep." We May Have Reached The 'Apocalyptic Scenario' With Antibiotics
"Superbugs are without a doubt a major threat affecting all health care systems. Methicillin-resistant Staphylococcus aureus (MRSA) infection is caused by a type of staph bacteria that's become resistant to many of the antibiotics used to treat ordinary staph infections. Despite attempts by new antibiotics to neutralize the effects of MRSA, none have succeeded. But nature did. The red berries of the Brazilian peppertree — a weedy, invasive species common in Florida — contain an extract with the power to disarm dangerous antibiotic-resistant staph bacteria, scientists at Emory University have discovered." Nature Comes to the Rescue
Through our indiscriminate use of Drug Antibiotics we have created "Superbugs", virulent bacteria that develop resistance to solitary antibiotic drug compounds at an alarming speed. These bacteria can be created in YOUR body when you take Drug Antibiotics.
You may have trouble getting rid of these "super bugs" and you may pass them on to posterity.
Your Gut Biotics are part of YOU
"Normal people generally have some cancer cells, Candida yeast, E. coli, staphylococcus, strep, and any number of other potentially bad organisms you can think of in their tract most of the time. But they don't get any disease. Researchers know, for example, that 50% of men over age 75 actually have prostate cancer, found on autopsy, but only 2% die from it. Why? The body encapsulated the cancer: limited and controlled its growth, walled it off. The discoverer of the HIV virus himself, Dr. Luc Montagnier, said that HIV alone cannot cause AIDS. (The Coming Plague) Depressed immune environment is also necessary. Same with Candida or most other bacteria; normally they'll be held in check by sufficient friendly bacteria. E. coli is actually a probiotic when held in check by normal friendly flora. It's only when the friendly probiotic bacteria get killed off that the potentially bad organisms get a chance to get a foothold and take over. The bad bugs are then called opportunists." The Doctor Within
"Also lactobacillus found in the colon and vagina produce hydrogen peroxide. This destroys harmful bacteria and viruses, preventing colon disease, vaginitis, bladder infections and a host of other common ailments. (Infect Dis News Aug.8,91:5). When lactobacillus in the colon or vaginal tract have been overrun with harmful viruses, yeast, or bacteria, an effective douche or enema solution can be made using 3 tablespoons of 3% H202 in 1 quart of distilled water. Keep in mind, however, that a good bacterial flora must always be re-established in theses areas to achieve lasting results." Doctor David Williams MD
"Friendly bacteria are a significant part of the primary defenses in all the vulnerable open areas of our body where their friendly biofilm protects us from countless pathogens. This is especially true in the gastrointestinal and female genital tracts but it holds for the nose and upper respiratory tract as well." Doctor Lon Jones D.O.
"We should consider not how to kill microorganisms but rather how to make them our friends and allies; how to use them in ways that encourage their proliferation in out foods." Claude Aubert
Drug Antibiotics wipe out your intestinal flora, the good bacteria (See Probiotics Protocol) that your body uses for MANY functions, including the production of many vitamins. Killing these friendly bacteria as Drug Antibiotics do has MANY negative effects on your health. IMO do not take Drug Antibiotics UNLESS your doctor can make a good case that your life will be in jeopardy without them. First try the natural antibiotics listed below. These natural substances DO NOT kill your intestinal flora. Keeping a high level of natural antibiotics circulating in your blood stream will help protect you against any bacterium you may encounter. You MUST research this enough to realize the IMMENSE long-term harm Drug Antibiotics can cause you. When taking Drug Antibiotics you MUST also concurrently take probiotics. Take the pro-life probiotics three hours or so apart from the killer toxic drug antibiotics.
Colloidal Silver Might Solve Our Anti-biotic Problem
"The new history of silver is a falsified history. Silver was once used extensively by all health care practitioners as an antibiotic, anti-viral, and as an anti-microbial. Nothing worked better then, and nothing does now. The F.D.A. began its crusade against silver products in the 1930's, because silver (as a natural substance) cannot be patented; but the organization's antibiotic and vaccine industry partners were able to patent their wares. Under the Food and Drug Administration's original name, the Bureau of Chemistry, its real mission was to legally protect the chemical industry by declaring toxic chemicals to be "generally recognized as safe", and to eliminate the chemical industry's competition through regulations. This history has likewise been obscured greatly in most modern historical texts, but the truth can be found in materials from its early period." Everything About Colloidal Silver
"Colloidal silver, unlike its modern prescription antibiotic counterpart, simply doesn't create resistance or immunity in the organisms that are killed by it. This point cannot be emphasized enough, especially in light of the Centers for Disease Control and Prevention (CDC) recently reporting that more than 2 million people in the U.S. suffer illness every year as a result of antibiotic-resistant infections and 23,000 die from these infections. (7) " Top 8 Proven Colloidal Silver Benefits
Big Pharma, the FDA and others are warning us we are close to a disaster as our existing Drug Anti-biotics are failing to control some very virulent, DEADLY, bacteria. Strangely Big Pharma is NOT developing any new Drug Anti-biotics. Many virulent bacteria have evolved to be completely immune to ALL Drug anti-biotics.
The FDA REFUSES to honestly test Colloidal Silver, or approve it for many common anti-biotic uses.
Folks we do not need the FDA to tell us Colloidal Silver WORKS for MANY uses. Please study the facts and decide for yourself. If we as a society will use natural anti-biotics and reserve the drugs for the less than 1% of bacterial infections, as there were intended, our anti-biotic problem might be solved. The FDA being an almost completely captured appendage of Big Pharma is not too interested in protecting society if it involves taking money away from Big Pharma.
Could Blue Light Replace Antibiotics?
"These significant levels of photo-destruction at low dosages indicate that irradiation with 470nm LED light energy may be a practical, inexpensive alternative to treatment with pharmacological agents, particularly in cases involving cutaneous and subcutaneous MRSA infections that are susceptible to non-invasive types of radiation."

Could Blue Light Replace Antibiotics?
"As many of you know from firsthand experience, urinary tract infections (UTIs) are high on most people's list of things to avoid. And yet, as I explained to my patient, Sarah, the standard "antibiotics for everyone" treatment only makes matters worse. By the time Sarah left my office, she was ready to take on her recurrent UTIs with a whole new battle plan. Here's the short version of what I told her." Stop UTIs Without Antibiotics
A great article showing how antibiotic drugs are NOT needed most of the time.
Vitamin D is an Antibiotic
The simple primal act of getting LOTS of the high noon sun on your bare "unprotected" skin in large amounts just may be the most important single thing you can do for your health. If the sun casts a shadow longer than you are tall you cannot make adequate vitamin D from the sun. You MUST take vitamin D3 at the daily rate of about 1000 IU/20 pounds of body weight.
Mission Critical: Preventing Antibiotic Resistance
Like it or not we are soon going to be without this mostly needless DRUG anti-biotic crutch. Learn how easy it is to defeat this serious plague on your OWN with NATURAL anti-biotics.
Continuation of Antibiotic Protocol (See Antibiotic Protocol Continuation)