Forced Vaccination Protocol
There are many ways to lower the RISK of Autism. If your child is not injured by "VACCINATION" he will probably not GET Autism. Period.
Dr. Paul Thomas Targeted By Medical Board & Media After Landmark Vaccine Study — Interview
Note: Doctor Paul has some intelligent analysis of the extremely dangerous of the mRNA "experimental vaccines"
Robert Kennedy Gives a Heroic Defense Against Forced Vaccination
The
California Political Establishment has completely sold out to the NWO Disease Propagation lobby. Bobby is having none of it. A LOT of California Mothers are backing Bobby and the Horrible Truth about "vaccination".
Forced "vaccination" is your future UNLESS the Mothers of America unite for the truth about "vaccination".
Bobby, a lawyer, has several LEGAL initiatives planned. Please get behind this discovery of EVIL process. Pray for this good man, many, in his position have been removed from the fight by these same evil forces.
Sweden Bans Mandatory Vaccinations Over 'Serious Heath Concerns'
"NHF Sweden sent a letter to the Committee and explained that it would violate our Constitution if we introduced compulsory vaccinations, or mandatory vaccinations as was submitted in Arkelsten's motion… there's a massive resistance to all forms of coercion with regard to vaccinations." Sweden Bans Mandatory Vaccinations Over 'Serious Heath Concerns
"A new FDA-approved Hepatitis B vaccine has been found to increase the risk of heart attacks by 700%, yet Facebook, Google, YouTube and Twitter ban any talk of vaccine dangers. There is a complete blackout of medical and scientific facts if they show vaccines to be anything less than magical, risk-less, medical utopian gifts to humanity." New FDA-approved Hepatitis B vaccine found to increase heart attack risk by 700%
This is a tragedy beyond comprehension for me and I understand a lot of it. Have your kids at home if at all possible. Talking to many hospitals is like talking to hundreds of WALLS. They have their ORDERS from the CDC and other people who often HARM your newborns. It does not matter to your child and you if this harm is unintended; the CDC and many hospitals are FAILING both your child and you.
Does This "vaccination" contain Nagalase?
"Some of these now dead doctors discovered that vaccines contain Nagalase. There is no legitimate reason for that protein to be in vaccines. It has no beneficial effect. Is it there so that vaccines will destroy our natural ability to fight off illness, to make us dependent on the medical-industrial complex?" Is This The Reason Holistic Doctors Are Turning Up Dead?
Doctor Bradstreet and his group found good evidence Nagalase was included in some "vaccines". Folks it does not get more serious than this. Perhaps that is why all these good doctors are now DEAD.
Yet one more reason why we cannot "trust" vaccination. No one should be able to FORCE you to take NAGALASE a pathogenic Cancer, Autism and other disease causing enzyme.
Trust the CDC? Yeah Right.
To See all the Diseases you are Opening Yourself up to by "Vaccinating" Please Go Here
To See The Main "Vaccination" Disease Mechanism
Please Go Here
Sweden Bans Mandatory Vaccinations Over 'Serious Heath Concerns'
"NHF Sweden sent a letter to the Committee and explained that it would violate our Constitution if we introduced compulsory vaccinations, or mandatory vaccinations as was submitted in Arkelsten's motion… there's a massive resistance to all forms of coercion with regard to vaccinations." Sweden Bans Mandatory Vaccinations Over 'Serious Heath Concerns
"Australia's Minister for Social Service, Dan Tehan, announced July 1st, the Australian Government will monetarily penalize any citizen whose children are not up to date on their vaccinations. The penalty, in the form of a reduction of government payments, amounts to $56 (AUD) monthly. Called the "No Jab No Pay" program, Australia aims to increase compliance with government mandated vaccination programs by taking money away from its citizens. Parents who refuse to vaccinate their children may continue to do so under religious or medical grounds, but will not be allowed to keep the money they were previously receiving from the government." Australia Now Issuing Fines to Citizens Who Refuse Vaccines for Their Kids
Great Discussion with Del Bigtree producer of "Vaxxed" on the DISASTER of Forced "vaccination" with UNTESTED "vaccines"
The CDC has an "Adult Vaccination Mandate" completed and waiting to FORCE us all to be "vaccinated" with whatever poison they wish. They will probably need another 9/11 type event to spring this on us. No problem for them. Hey Ebola; yeah that will do it.
Thousands of Citizens Rise up Against Mandatory Vaccines in Italy
"The people of Italy have been taking to the streets in the thousands to stand up against Italy's new mandatory vaccine laws. Thousands of angry citizens have been demonstrating against the vaccinations that have recently been made compulsory, yet the mainstream media in the West refuses to cover the protests. As forced vaccines laws are slowly brought in across the globe, the US corporate media is censoring the coverage over fears the resistance will spread." Thousands of Citizens Rise up Against Mandatory Vaccines in Italy
"Robert F. Kennedy Jr. recently appeared on the Tucker Carlson Show and bravely exposed the "lawless mafia state" that is Big Pharma and their "extremely lucrative" vaccines scam. "The pharmaceutical industry is so powerful," RFK Jr explained. "They give $5.4 billion a year to the media. They've gotten rid of the lawyers, so there is no legal interest in those cases. They have really been able to control the debate and silence people like me."
Renowned Pediatrician Says "Vaccination Causes Autism"
What the vaccine industry is hiding is a horror story beyond any one's imagination
"In 1993 the deaths of 93,000 elderly Americans vaccinated with a "hot lot" flu vaccine that caused the life expectancy of Americans to drop for the first time in eight decades was covered up by health authorities and the news media. If you can hide 93,000 vaccine-related deaths, what else is the vaccine industry hiding?" Note IMO this was NO HOT BATCH it was a TEST, only a TEST, a very successful test.
"There is massive over-vaccination. To prevent one case of polio 200-1000 children must be vaccinated. Most well-nourished unvaccinated children and adults will develop antibodies on their own when infected with transmissible diseases such as measles, mumps, polio, whooping cough and chicken pox, without developing noticeable symptoms." Note children with high enough anti-infective vitamins almost NEVER get Serious cases of the common childhood infective diseases; they contract the disease, often asymptomatically, and obtain lifetime natural immunity.
There is massive over-vaccination

Newer synthetic [Man Made, No Wild Pathogens] vaccines do not provide the life-long immunity older vaccines produced

More booster shots and increased delivery of heavy metal adjuvants are now required

The vaccination scheme has [long ago] reached a point of diminishing returns

Newborns, infants and older adults are deficient in the trace mineral zinc

Zinc deficient infants may not produce sufficient amounts of a zinc-binding protein (metallothionein, pronounced me-talloh-thigh-o-nee-n). Metallothionein also binds to other heavy metals, such as aluminum and mercury, adjuvants commonly included in vaccines. Without sufficient metallothionein, these heavy metal adjuvants remain unbound and may penetrate through the vulnerable blood-brain barrier and disrupt normal brain development.

Immunonutrition needs to be prioritized over vaccination. There is no way to improve the effectiveness of vaccines among vulnerable groups (the young and the old) without zinc therapy.

Modern medicine, in particular pediatrics, is so steeped in an anti-nutrition culture that it is unlikely any meaningful change will occur within the practice of medicine. Immunonutrition will likely have to be promoted and practiced by a grass roots movement. To that end, a website has been created for the distribution of the documentary report entitled

BEYOND VACCINES: THE END OF THE VACCINE ERA

. It is an authoritative report that includes over 190 links to scientific references.
The above referenced paper by Lew Rockwell is an excellent description of the house of "vaccination" horrors we have been led into. Please read this excellent paper; you will not be disappointed with the important "vaccination" information.
CDC Admits Thimerosal CAUSES AUTISM
"In 2016 over 100 Freedom of Records Act (FOIA) requests have finally forced the US Centers for Disease Control and Prevention (CDC) to admit a widely-used vaccine preservative is the equivalent of a neurological Armageddon. The deceitful agency finally had to reveal what they have known for years, that thimerosal, which was banned in 1999, but still used in over 60 vaccines, causes autism." Foolish to Trust the CDC on Vaccines
"Kids who received 100 micrograms of thimerosal were over ten times more likely to have autism than the kids who received no mercury-containing vaccines."

Doctor Mark Geier
Note there are 50 - 100 mcg of thimerosal in 85% of all "flu shots"
You may think mercury has been removed from "vaccines" but it has NOT. For example your lovely "flu shot" usually contains 100 billion to 200 billion atoms (25 mcg - 50 mcg) of mercury. EVERY "vaccination" contains mercury.
The Vaccine Culture War in
America
: Are You Ready?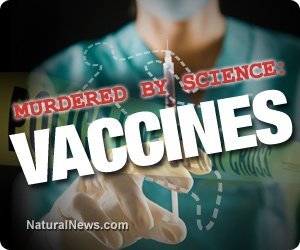 Actually True Scientists are NOT murdering anyone it is the politically correct science shills doing the murdering.
"This interview was posted by Jon
Rappoport in early January 2002. You will discover by reading it that the very issues we now face of FORCED vaccination of a laboratory-created vaccine to "protect" us against a laboratory-created "disease" (Swine Flu, Bird flu, etc.) was set into motion a long time ago. The vaccine researcher quoted here flat out says that the World Homicide Organization, WHO, is driven by a DEPOPULATION agenda, and that many African leaders know full well that the explosive spread of HIV and AIDS in
Africa
was caused by WHO-sponsored vaccinations of the 1970s. This former pharmaceutical insider also debunks the widespread ASSUMPTIONS of vaccine "safety" promoted by orthodox medicine, the CDC, the National Institute of Health, state health departments, and their compliant media propagandists who are all parroting SUPERSTITIONS, rather than FACTS. "
Ken Adachi
Your child WILL be vaccination damaged and perhaps worse
"Jane Burgermeister has recently filed criminal charges with the FBI against the World Health Organization (WHO), the United Nations (UN), and several of the highest ranking government and corporate officials concerning bioterrorism and attempts to commit mass murder. She has also prepared an injunction against forced vaccination which is being filed in America. These actions follow her charges filed in April against Baxter AG and Avir Green Hills Biotechnology of Austria for producing contaminated bird flu vaccine, alleging this was a deliberate act to cause and profit from a pandemic." http://blogs.healthfreedomalliance.org/blog/2009/06/25/an-engineered-pandemic/
"Perhaps doctors practicing with such a mindset were those who told Sara Frederick in 2004 that her newborn son, just a few months old, should receive seven vaccinations during one hospital visit in order to catch her son up on ones that he didn't receive earlier. Frederick was able to talk them into lowering the amount of vaccinations that her son received. However, her infant died within a day of receiving five vaccinations." History and "vaccines"
"If you choose not to vaccinate your children, you should know that the government can have you declared unfit and vaccinate them anyway – at least if you happen to live in
Michigan
. A
Michigan
appeals court has ruled that a judge acted properly when ordering children to be vaccinated despite objections by their mother on religious grounds. Her requests were disregarded after she was deemed unfit by the state."
Parents beware: The government has found a new way to force children to be vaccinated without parental consent
SIDS is Often CAUSED by "Vaccination"
90% of deaths occurred within five days of vaccination Note if "vaccination" was not causing these deaths the SIDS distribution would be CONSTANT across time and not clustered AFTER the "vaccination". IMO many if not MOST "vaccinations" if honestly investigated will show a similar asymmetric DEATH cluster AFTER "vaccination". This data was found HIDDEN in drug testing files.
"A study undertaken in 1979 at the University of California, Los Angeles, under the sponsorship of the Food and Drug Administration, and which has been confirmed by other studies, indicates that in the U.S.A. approximately 1,000 infants die annually as a direct result of DPT vaccinations, and these are classified as SIDS (Sudden Infant Death Syndrome) deaths. These represent about 10 to 15% of the total number of SIDS deaths occurring annually in the U.S.A. (between 8,000 and 10,000 depending on which statistics are used)." Leon Chaitow, Vaccination and Immunization, CW Daniel Company Limited, Saffron Walden, Essex, England, 1987.
FORMAL Forced "Vaccination" (DEADLY poisoning) is coming to the United States of America if we allow it folks. This is clearly the PLAN.
Over 90% of our children are currently NOW being poisoned by "vaccinations" NOW. This is being done by the subtle force of the denial of education. Many workers in the Health Care Industry are NOW currently being forced poisoned through the threat of firing. Over 90% of our foolish seniors are NOW receiving the poisonous "Flu Shot" through the false threat of death.
California has a LAW MANDATING forced poisoning of their children; a similar LAW is now before the US Congress. The CDC has developed a Forced "vaccination" Agenda for Adults which they intend to FORCE on ALL adults, including sick adults and pregnant women. The ultimate Forced "Vaccination" universe is to be at least 99% of every American from In utero fetuses to those on their death bed. Very few "exceptions" will be allowed and VERY HARD to obtain. Unless we scream long and hard NEVER our masters intend to FORCE this subtle DEPOPULATION tool on us and of course our babies and children.
"Vaccination" is often Forced (MANDATED) "health care"
Is this funny? Not really. Is this an accurate representation of our sick "Health Care"? YES!
"This was a very hard video to post, my 12 yr old daughter was fine before her vaccine, now this is her life. We live in New Zealand and I thought our healthcare system was ok, we have been left to deal with this ourselves. I'm showing this because I want people to know what damage this vaccine can and does cause." Note the medical system abandons you after vaccine damage. "There is nothing we can do." There is, do not poison our children you bastards. Parents can do a lot before "vaccination". DO NOT "VACCINATE."
How the State Intends to Implement Forced "Vaccination"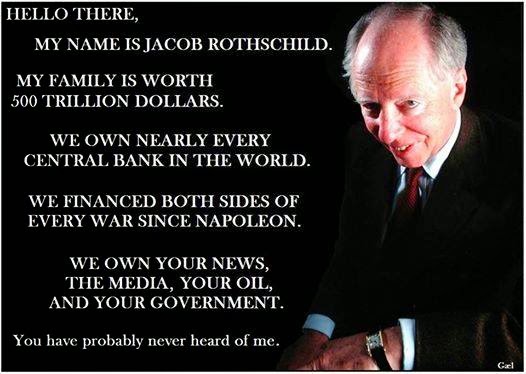 "For those reasons, I am extremely worried at the prospect of mass vaccination programs for Ebola. In my opinion, the evidence strongly suggests that such programs may cause the very epidemic they are meant to prevent." Ebola terror or bogey man
"In his latest Op-Ed Gates sends a stark message to political leaders and the general public, claiming that a virus even deadlier than Ebola may be on the horizon. According to Gates, should such a virus start spreading the world is ill-prepared to handle it. ... "Other diseases — flu, for example — spread through the air, and people can be infectious before they feel sick, which means that one person can infect many strangers just by going to a public place. We've seen it happen before, with horrific results: In 1918, the Spanish flu killed more than 30 million people. Imagine what it could do in today's highly mobile world." New York Times Gates is no doubt referring to the Ebola-Common Cold cross that Professor Francis Boyle says the NIH has developed. Does Gates KNOW this is the Pandemic that will be released? IMO it will be either a Ebola-Airborne cross or a Bird Flu-Airborne cross. Perhaps or perhaps it is the FEAR of such a cross that will be used to drive the uptake of an "Ebola vaccine" that contains the live ebola virus. Do you TRUST these guys? I do not.
The ultimate aim of the man made Political Pandemics of the Bio-Weapons of Ebola and Bird Flu is the institution of a regime of forced vaccination whenever the state orders it. Sooner or later these "vaccines" will mow us down like ripe wheat. The "childhood vaccines" are NOW harming, sickening, mowing down our children.
California to throw adults in JAIL if they refuse government-mandated vaccines
<![if !vml]>
<![endif]>
Forced Vaccinations, Government, and the Public Interest
"What neither HHS, the CDC/FDA, nor anyone associated with the vaccine industry will admit to, I contend, is this: With all the vaccines they have mandated for children since the middle 1980s—supposedly for entry into schools—they have – either accidentally or deliberately – created reduced-functioning immune systems that cannot perform in the manner Nature and life intends and genetically programs.
Vaccine makers, in effect, have created what they think is 'immunity', which actually is an antigen response that, consequently, can produce inflammatory processes in the body, including the brain. An apparent end result is deficient immune systems as children grow into adulthood and older. Chronic "old-age diseases" now are plaguing young children! See "Coping with Chronic Illnesses in Childhood and Adolescence" (2012) .
"Diminishing function of the aging immune system" clearly will result in—and federally require—periodic re-vaccination in order to effectuate Big Pharma's vaccination-produced acquired immune system, which apparently malfunctions, in my opinion. How many fully-vaccinated individuals contract the very diseases for which they are vaccinated? [11] How many children have allergies, asthma, and other immune problems? See allergy stats here." Note Wow!
The Complete Synopsis of Vaccination Issues Paper
Offit for Profit Vaccine Shill Extraordinaire
Dr. Paul Offit, also known as "For Profit" Offit, is a fairly well-known and frequent proponent of forced vaccination. He regularly dismisses many of the DOCUMENTED actual and potential vaccine risks and promotes vaccine mandates. His "vaccine" patents have earned him MANY tens of millions of dollars. If you want to read a fascinating expose of this fraud posing as an honest "doctor", read the recent Philadelphia Magazine expose on him.
Also See (vaccine only one)
Also See (Pandemic Update) for a history of the build up to Forced "Vaccination"
Also See (Ebola Protocol) for a history of the build up to Forced "Vaccination"